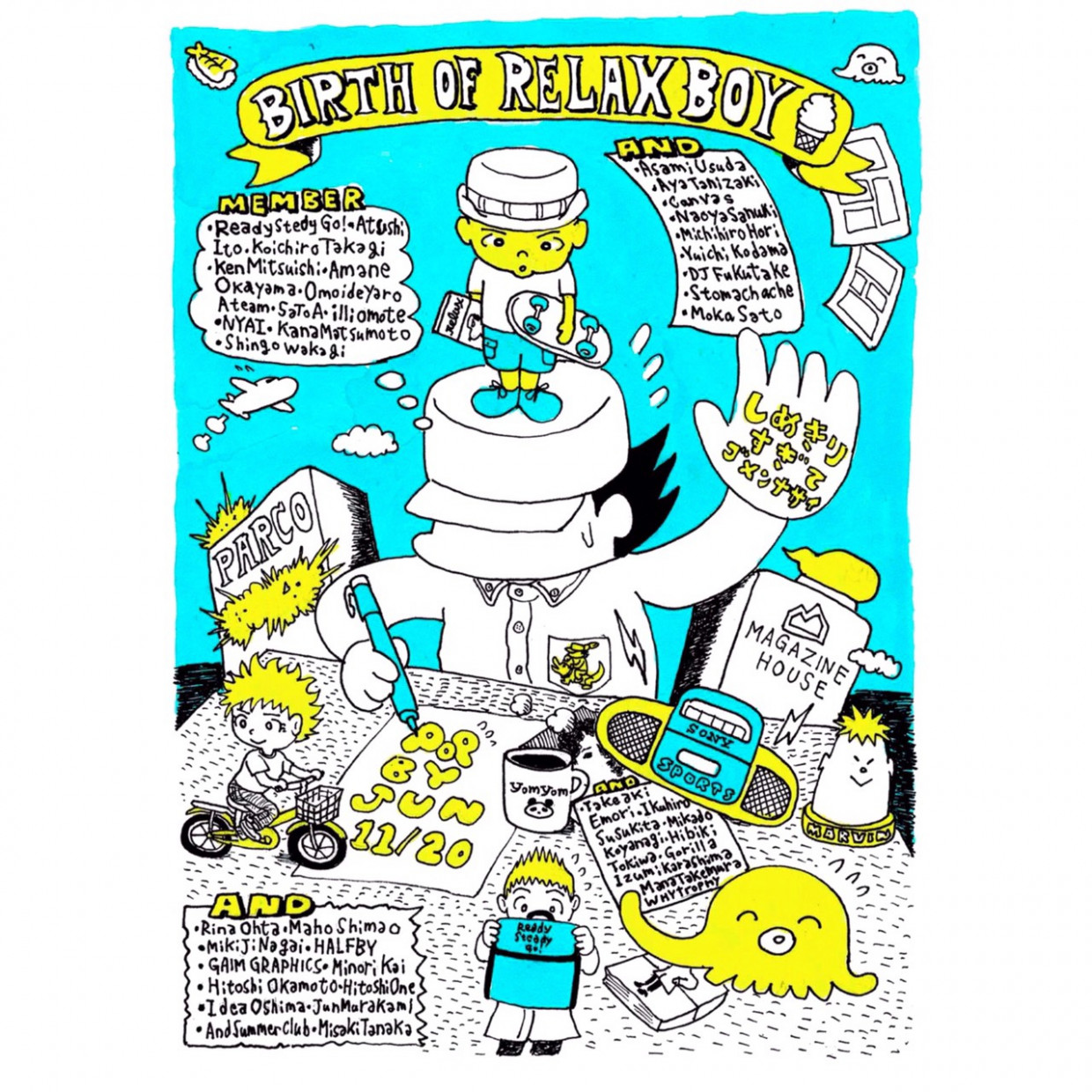 It depends on Mr. Shibuya right angle of comic artist/columnist
We start on "BIRTH OF RELAXBOY relaxation boy birth" Friday, November 20
As memory that Shibuya PARCO reached the first anniversary, legendary culture magazine "relax" (relaxation) of Magazine House is reissued with a limitation of 1 size.
relax team which played an active part before gathers for production of this reissue that it becomes 14 years since the last from suspension of publication again, and interviews such as designer or musician with affinity publish in thing and Shibuya PARCO in 2020.
He meets this shop "BIRTH OF RELAXBOY relaxation boy birth" by Mr. Shibuya right angle of comic artist/columnist who made lighter debut in such "relax" so far and has you call various places that were taken care of and exhibit "private properties"
We hold special market. Besides, it will release original goods which are exclusive only this time reminding of the 90s that is his youth!
The details from @pop_by_jun.
▼Special market URL
https://www.junonline.jp/special/popbyjun-birth-of-relax-boy/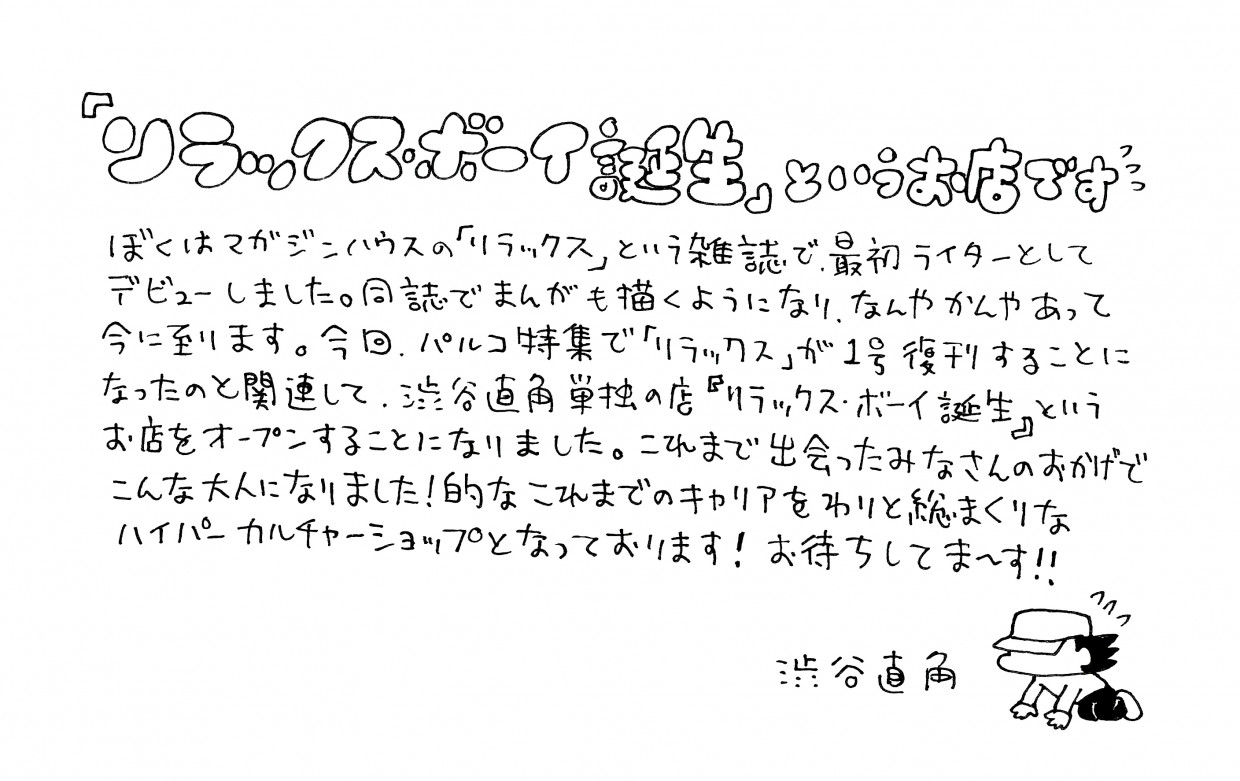 Luxurious guest (a lot!) Special market which depends on this
Yuichi Kodama (picture writer)/Nagai Miki di(graphic designer)/memory A team (musician)/worth grows (writer Rina Ota (actor)/Asami Usuda (actor)/DJ Fukutake DJ);/Hitoshi Okamoto (editor)/Ken Mitsuishi (actor)/Okayama sky sound (actor)/gorilla (producer) /STOMACHACHE. Chew, and spare illustrator)/Mikado Koyanagi (editor/lighter)/Shingo Wakagi (photographer)/Kana Matsumoto (movie director)/Aya Tanizaki (stylist)/Maho Shimao (essayist)/illiomote (musician)/SaToA (musician)/HALFBY (musician)/satoumoka (musician)/GAIMGRAPHICS (designer)/Mana Takemura (editor)/shelf (illustrator);/Karashima Izumi (editor/lighter)/Takeaki Emori (designer)/Koichiro Takagi (Aristrist)/Hibiki Tokiwa (photographer/designer)/NYAI (musician)/daishimaihisagea (designer)/daikonjin (movie director)/Jun Murakami (entertainer whom snow falls)/Ikuhiro Usuda (record buyer)/Sanuki Naoya (comic artist)/Michihiro Hori (comic artist)/canvas (musician)/And Summer Club (musician)
※Exhibitor may be changed partly. Thank you for your understanding beforehand.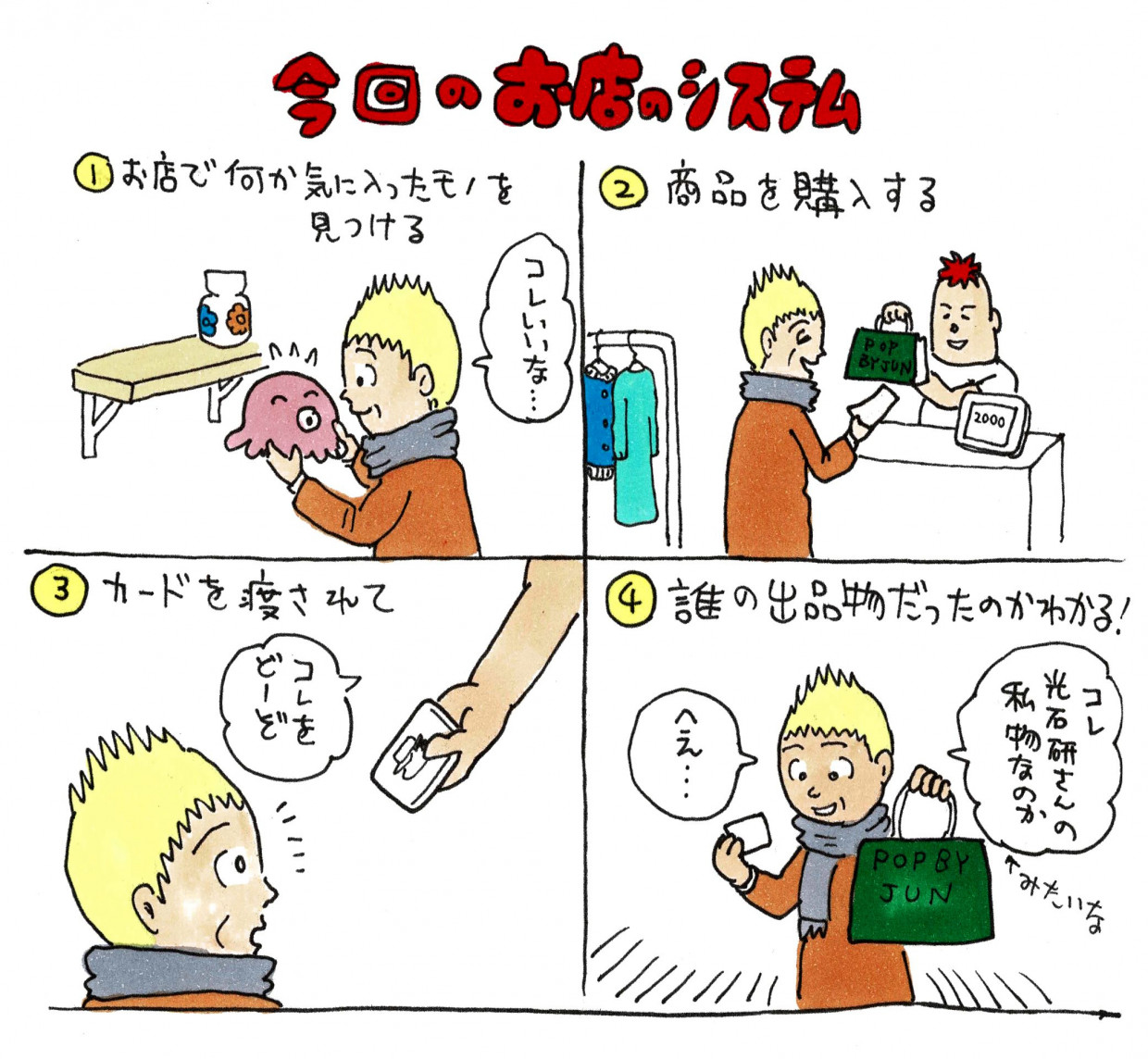 Style that special market which private properties of luxurious guest could buy changed a little.
It is presented by store without being specified who exhibited which item and is system that it is whose exhibition item, or it is revealed in timing when we purchased.
From various items hitting the shelves, please look for favorite item!
It was private properties of that surprising person! Private properties of that person are not readily available! nado
Surely is unprecedented; should be able to have a new experience.
Information
Event period

2020.11.20 - 2020.12.13

Venue

1F POP BY JUN