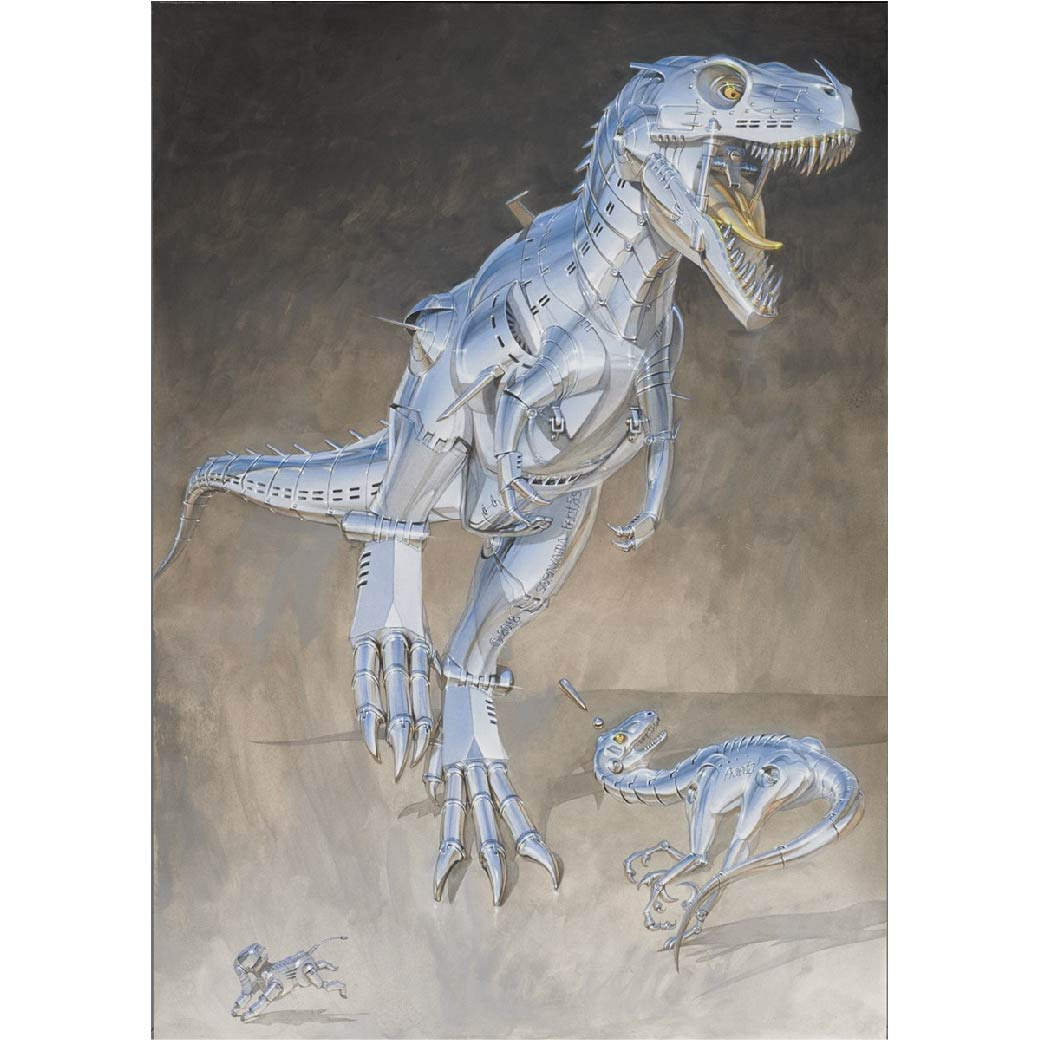 Nanzuka holds "Trex" two in Nanzuka 2G (2G in Shibuya PARCO) at the same time again in main gallery of Nanzuka in latest private exhibition "Sex Matter" of Hajime Sorayama (1947-).

Hajime Sorayama is the human body and artist becoming a legendary person with work in pursuit of the beauty of machine at home and abroad. In work "sexy robot" which showed the name to in the life series (1978 -), we had a big influence on the image formation of the later robot by expression that took the human body beauty of woman in robot. In concept design, 2001 of entertainment robot "AIBO" which SONY developed, we dealt with global rock band, album cover of "Just Push Play" of Aerosmith (2001), and in late years, in 1999, it was big topic in collaboration with Kim Jones and Dior Homme which we dealt with. In late years work of desolate mountain is announced at "Unorthodox" (The Jewish Museum, New York, 2015), "Desire" (by Larry Gagosian and Jeffrey Deitch, Moore building, Miami, 2016), "The Universe and Art" (Mori Art Museum, Tokyo, 2016, Art Science Museum, Singapore, 2017), "Cool Japan" (Tropenmuseum, Amsterdam, 2018), exhibition such as "Tokyo Pop Underground" (Jeffery Deitch, NY/LA, 2019-2020) all over the world widely.

Desolate mountain established the career as illustrator of pinup by taking advantage of the wonderful realism power from the early 1970s. Desolate mountain is famous by drawing person, animal, every robot including dinosaur, but the artistic evaluation is halved by having described image of nude of woman who is Fetish. However, it is not special thing for history of art to draw nude of woman. "Spring" of masterpiece of France neoclassicism at the mid-19th century and claimed Dominick angle does not have time for in the problem product "world origin" when great master Courbet of realism described or Chinese Crown Prince's Palace image and Japanese shunga, counting up including *sokuzu (ensokuzu) in the Heian era called the origin "Venus who can sleep" of jorujone described in in the times in Venus, the Renaissance of Miro in ancient Greece "dodekatekunon" of the Egyptian times (B.C.13 century) in the ancient times if we sail up. Or Marcel Duchamp said to be giant of art in the 20th century is doing image of naked girl with motif with the work "posthumous work" which we left last. In this way, we mind history of art to continue up to the present day, and it may be said that rather human physical beauty that desolate mountain draws, human essential curiosity, theme such as energy to greed = student are the main streams.

Desolate mountain denies taboo. For example, desolate mountain does not approve of that we suppress that we expose human nude socially. Similarly, it is political and is going to challenge religious taboo in the work expression daringly. For desolate mountain, this is honesty not punk and DADA. Desolate mountain is convinced that problem should be solved by talking than falling silent and therefore is going to be sometimes innocent like child. As a result, desolate mountain is going to be radical unusually.

In private exhibition "Sex Matter" in Nanzuka, desolate mountain challenged work of robot with theme of such nature as motif. It is strange diagram, but desolate mountain strongly shows fact that life is born by man and woman being in the world clearly with such a work when we have a look. In addition, we can read even if it suggests physical remodeling, post-human body, new problem submission in the former future of theme such as AI. In this exhibition, we are going to announce around ten points of latest paintings other than the latest sculpture of the latest human scale size.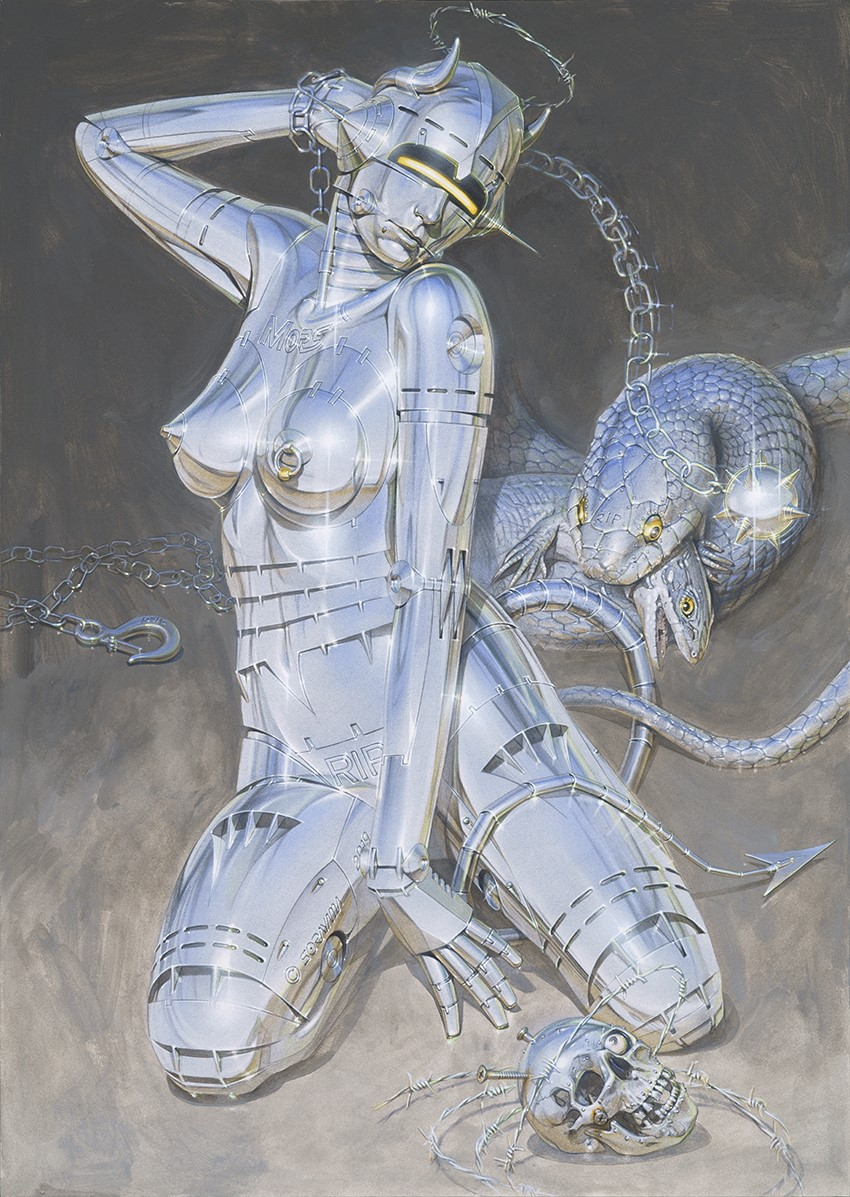 In addition, in private exhibition "Trex" in Nanzuka 2G in Shibuya PARCO, we announce with painting work of new work dinosaur robot series that we described Stegosaurus stenops, raputoru in other than tyrannosaurus with five points of sculptures made in precedence latest casting which announced in Bangkok in Thailand in last October.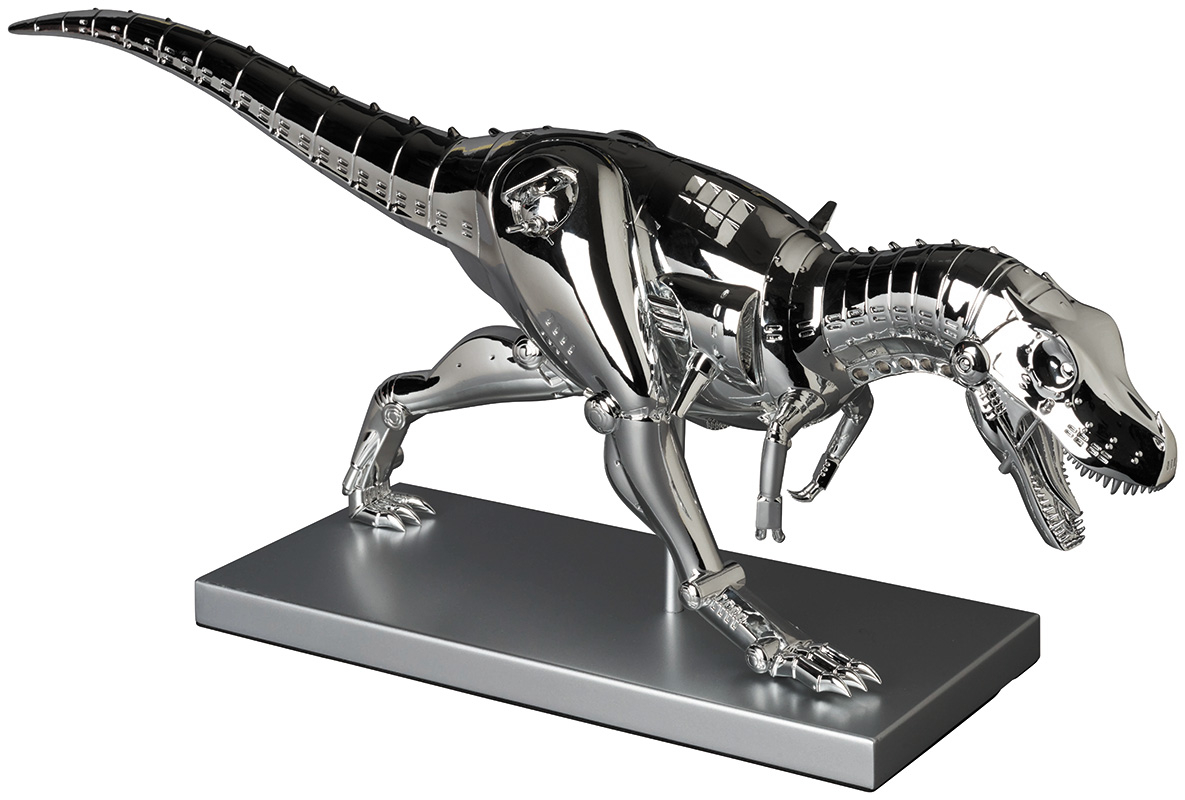 © HAJIME SORAYAMA Courtesy of NANZUKA production: Apportofolio & NANZUKA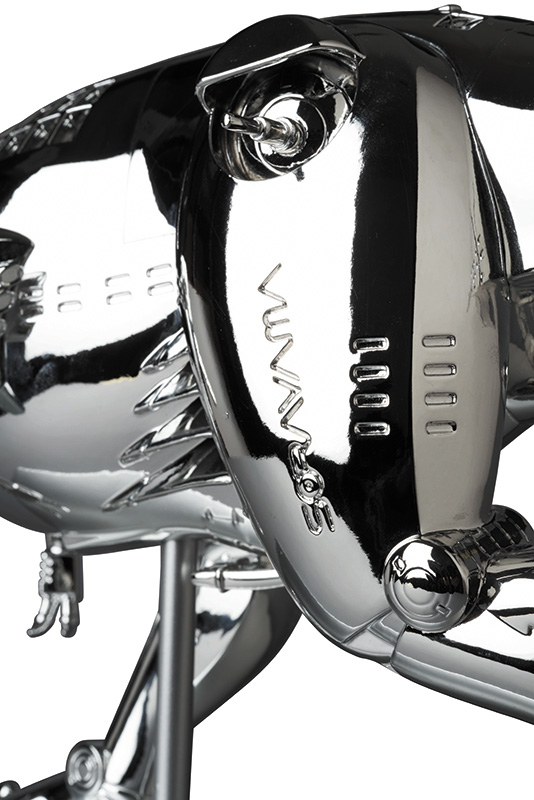 © HAJIME SORAYAMA Courtesy of NANZUKA production: Apportofolio & NANZUKA
SORAYAMA TYRANNOSAURUS 66,000 yen (tax-included)
produced by APPortfolio and Nanzuka
●About 600mm in total length
●SORAYAMA TYRANNOSAURUS which did ronchi at event of Thailand releases in 2G!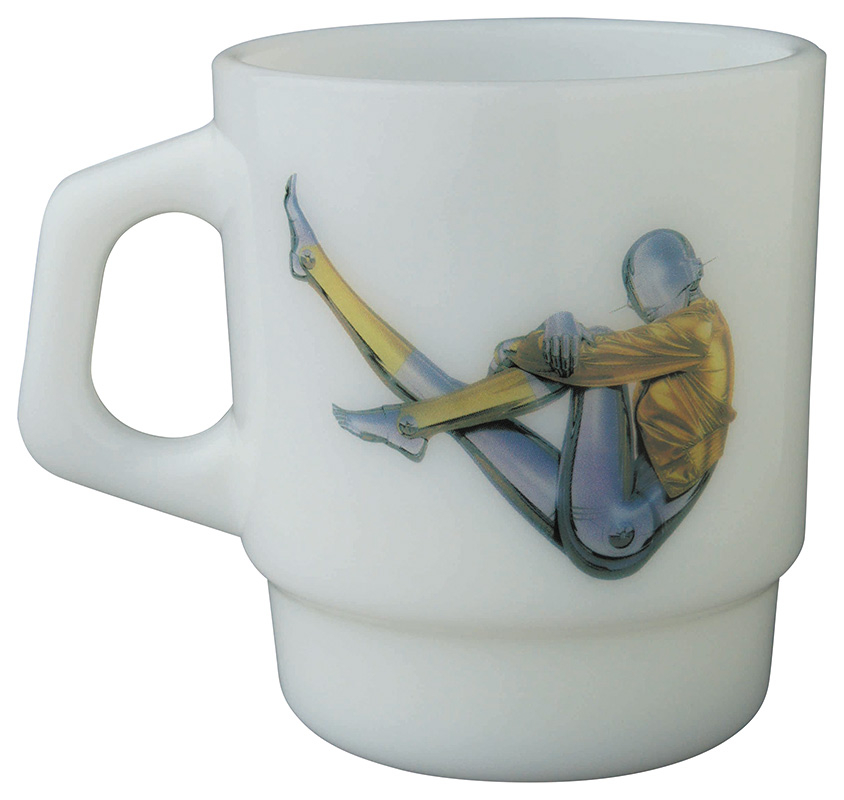 ©HAJIME SORAYAMA Courtesy of NANZUKA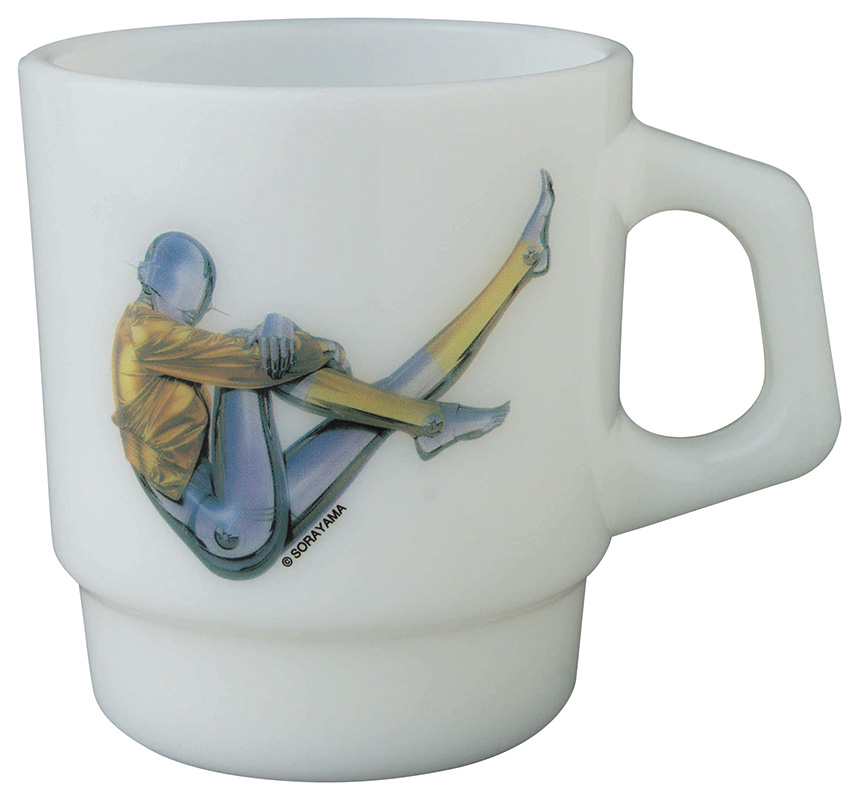 ©HAJIME SORAYAMA Courtesy of NANZUKA
SORAYAMA Fire-King stacking mug 4,620 yen (tax-included)
●Overall height about 87mm
●HAJIME SORAYAMA Ver. comes up to Fire-King stacking mug!
●We are going to sell in 2G and Fire-King Japan ONLINE STORE!
※It is going to release in March, 2020
Reference: 2G 03-6452-5003
Information
Event period

2020.3.13 - 2020.4.12

Venue

2F 2G "NANZUKA"