motora Serina who attracts us with innocent atmosphere like heroine who totally stole out of movie. "MARNIFESTO" (MARNI fest) where what she who played an active part as model, actress went to opened in Shibuya PARCO1 floor POP UP SPACE "The window" during period of Thursday for from Thursday, April 1 to 22nd. Japan-limited item is presented by richness, and motora reports "MARNI" which stepped forward to new one step as brand POP UP SHOP for a limited time.
Photo

Masumi Ishida
Hair&Make

Mika Iwata
Text

Ai Yamaki
Edit

RIDE MEDIA & DESIGN inc.
Combination of bold kolor gets a lot of looks
In dramatic, comfortable dress
The first place that silhouette which dress of linen viscose material which rouge et noir weaves is filled with wind, and shakes elegantly directs adultness. "We want to go for some trip, we wear, and light dress is comfortable dress. With mini-bag of latest Raffia material, we want to enjoy dress-up like summer. Step of dress is styling with full of the mood that is city like in total with by kolor pumps of black and white.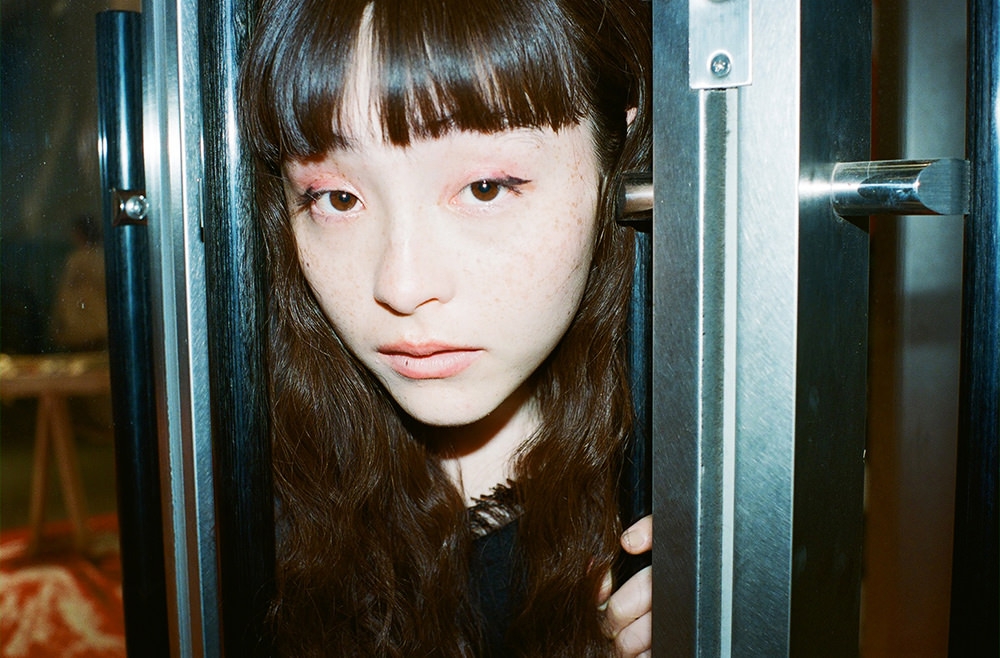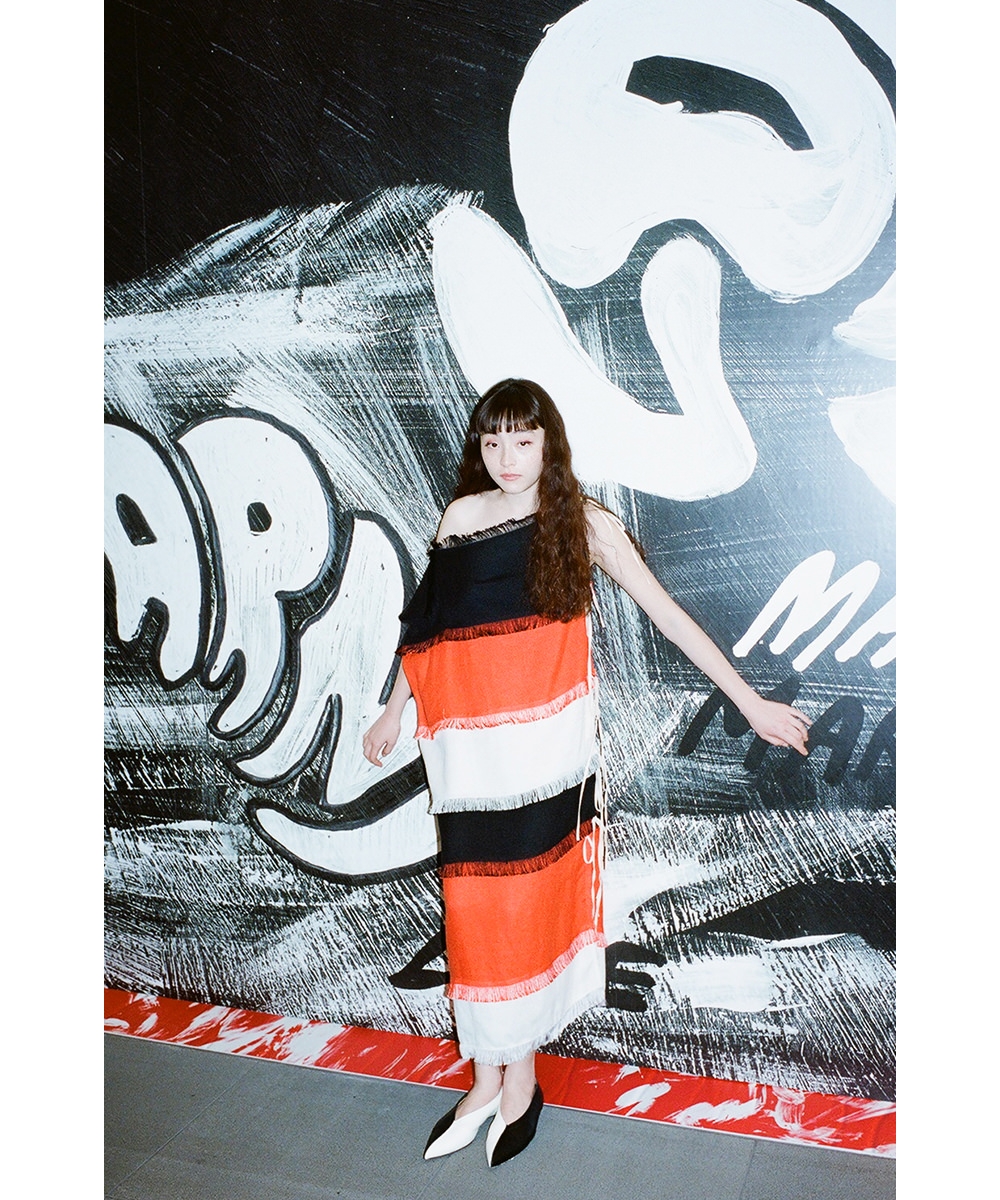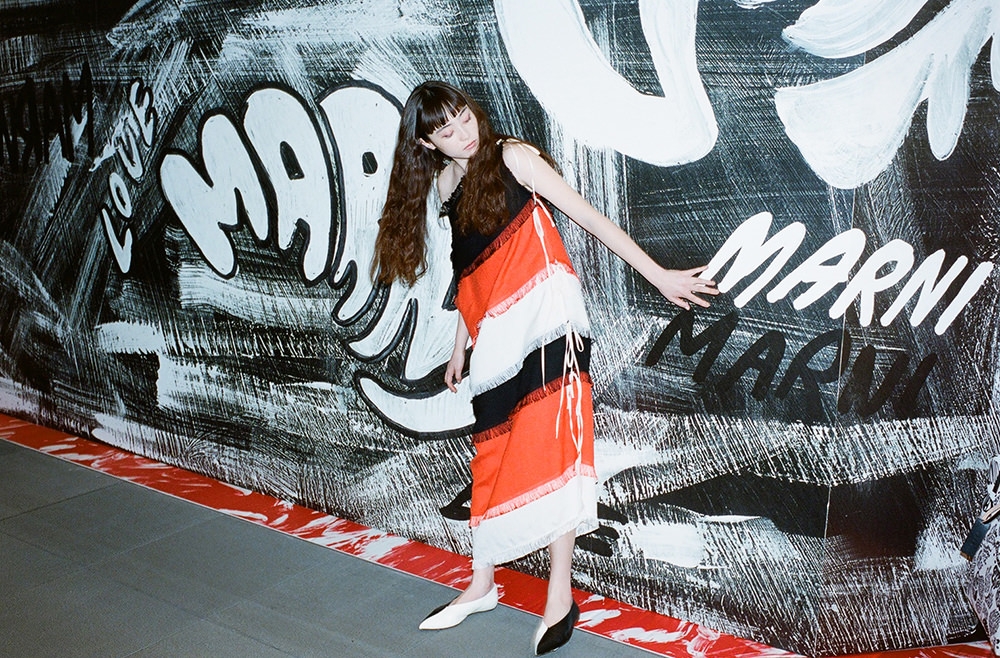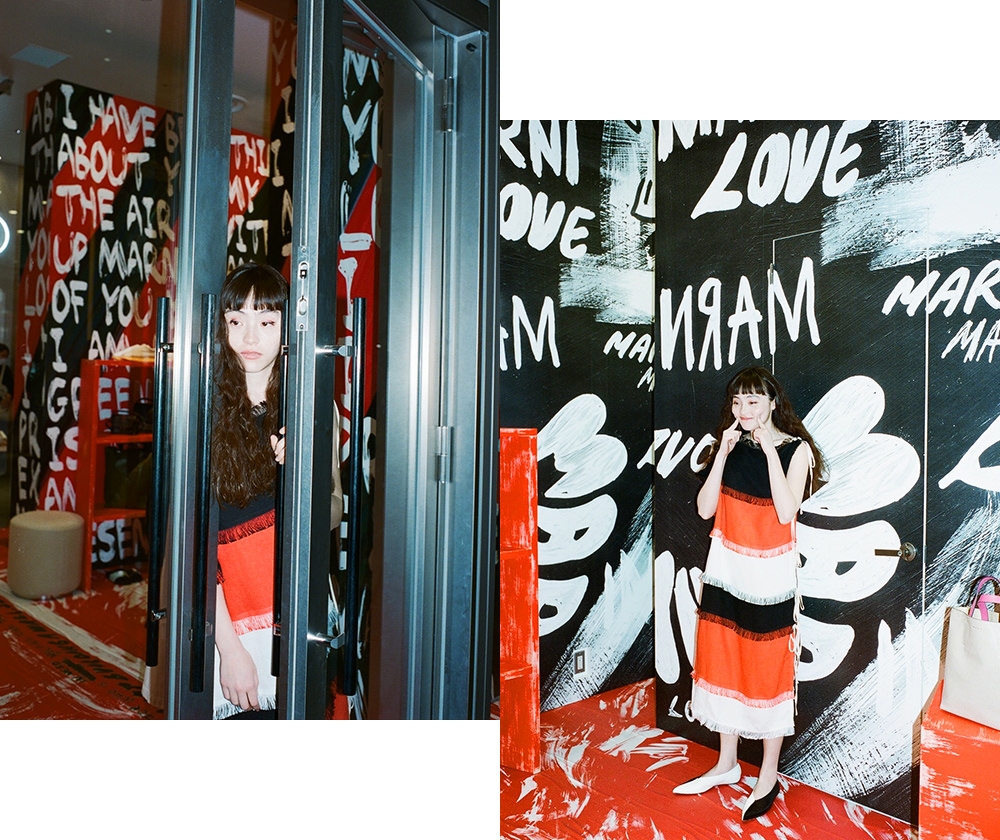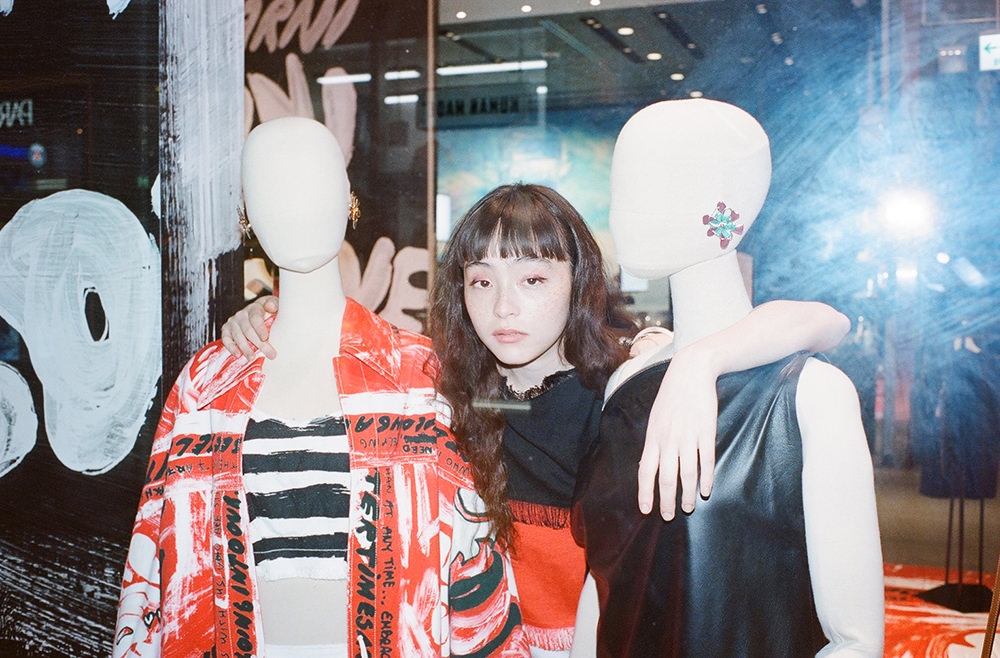 Message of love to important person was condensed
Be keenly aware of shop such as power spot
At first, interior of POP UP SHOP which what we want to pay attention to is dynamic, and is overwhelmed. That hand paint drawn to fill the wall is message of love that creative director of MARNI, Mr. Francesco risso addressed to family and friend, the staff. Thought born in process of production was loaded Collection which worked on corona maelstrom with and did appreciation in letter and seemed to drop the message into paint. motora takes in the energetic mood, too and "feels in creativity and energy of MARNI just to stand in this place. Saying seem to be able to get spirit only by space that can be also known as power spot being visited; as for saying is; comment.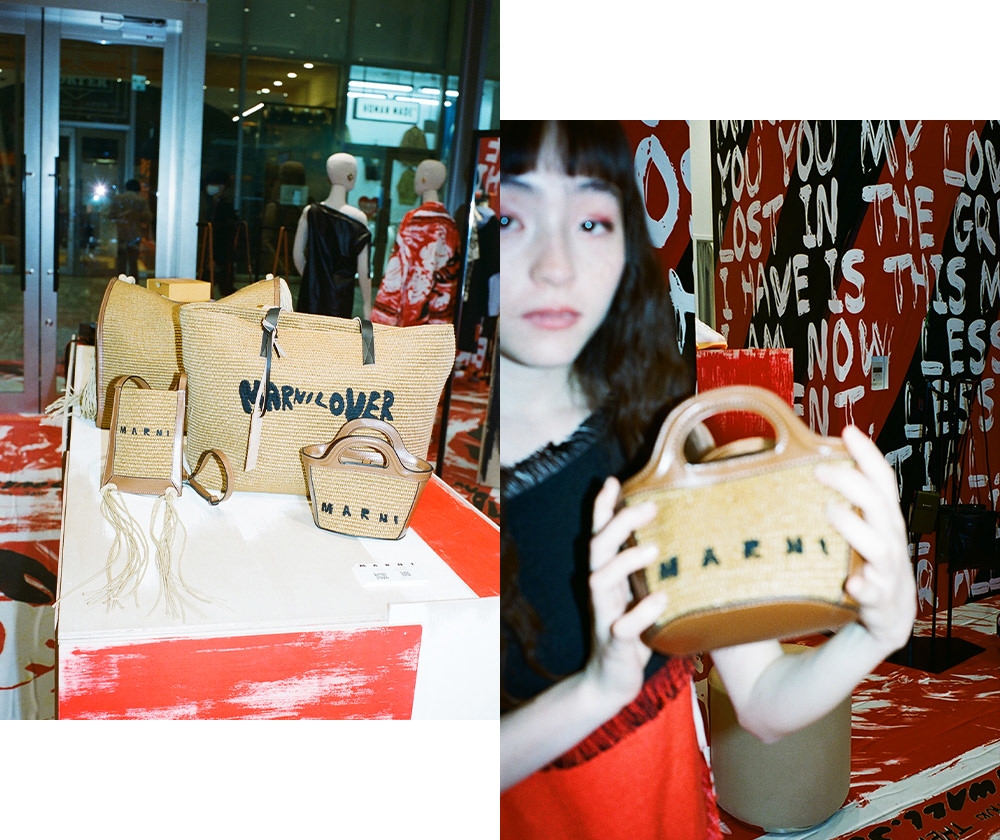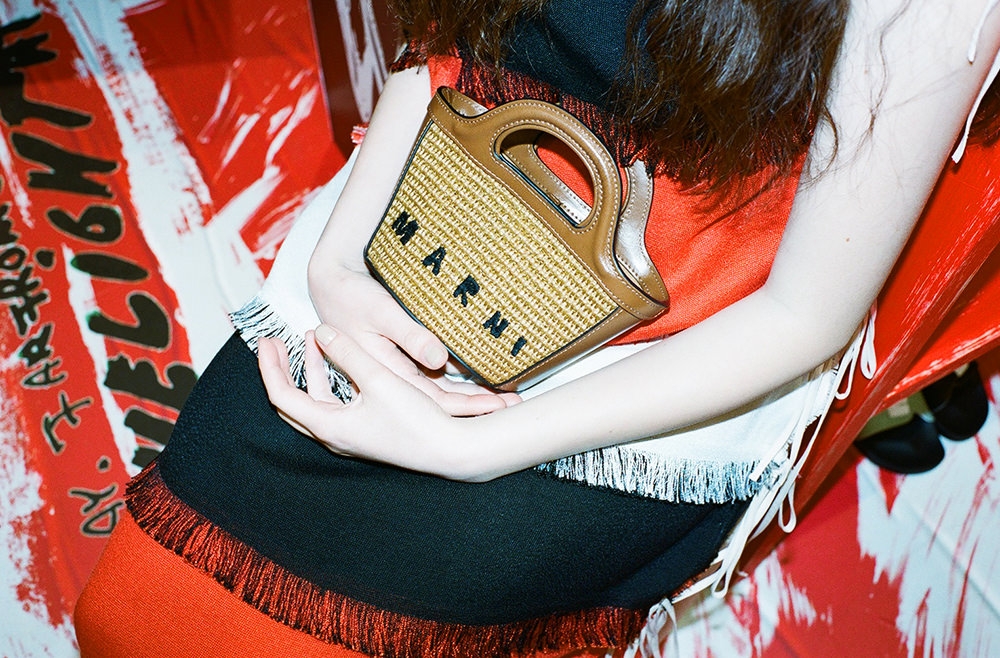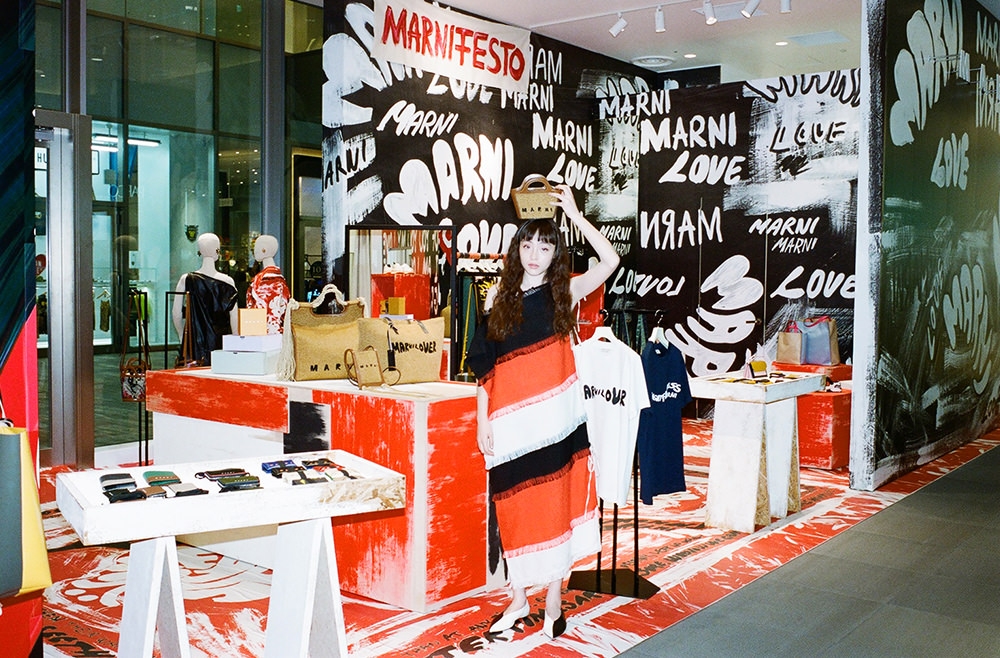 Dress 204,600 yen, skirt 78,100 yen, shoes 83,600 yen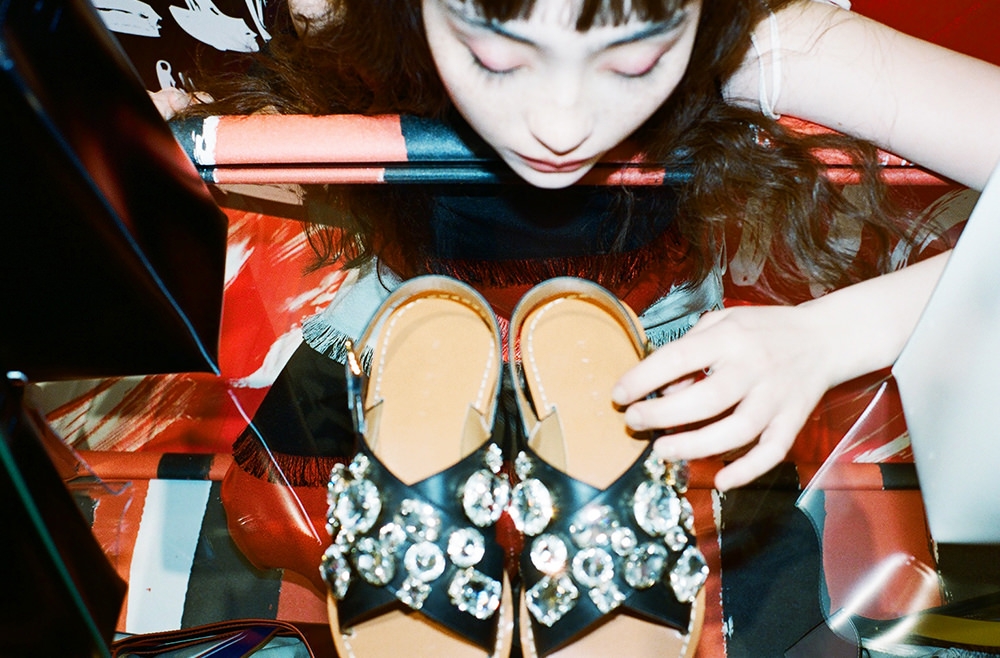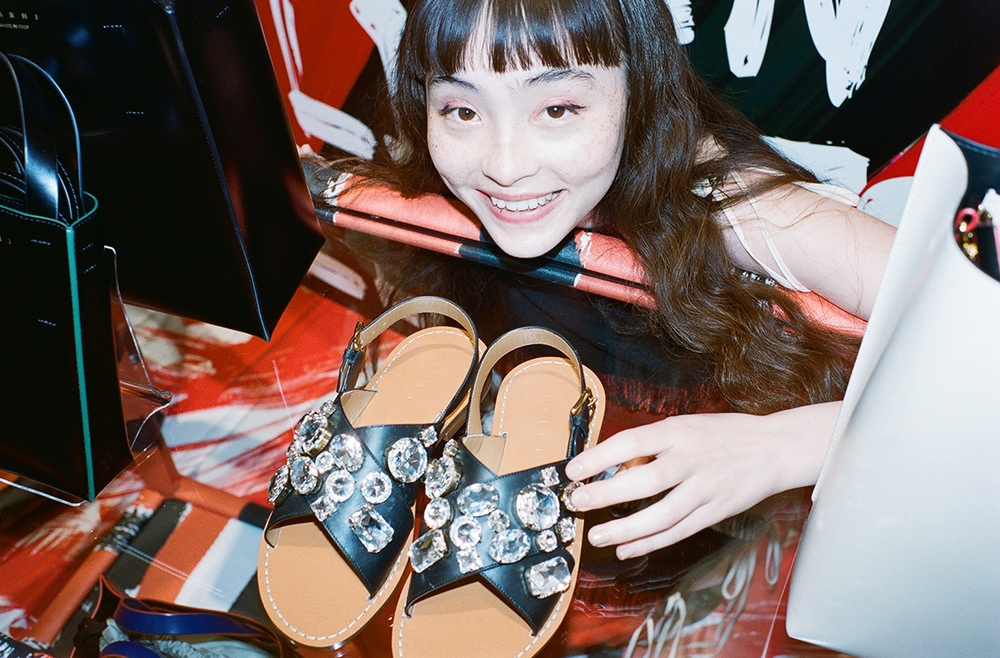 bijoux sandals 107,800 yen
As for attributive quality and "TRUNK" of hand paint bags,
Special peace gathers
In POP UP SHOP, Collection is appearance in the summer in the spring of 2021 when motora appeared at digital show in addition to Japan-limited item released every week in rotation, too. In addition, as for many special peace including T-shirt and Raffia bag which we put slogans such as "MARNI LOVER" or "THOUGHTFULNESS MARNI" released as Japan-limited item in. Sustainable tote bag and mini-wallet made with paper material are sold. Chance to be able to get PVC Kiisto lap as novelty when we do shopping tax-included 55,000 yen or more during POP UP SHOP holding in nicer thing. Do not miss this opportunity!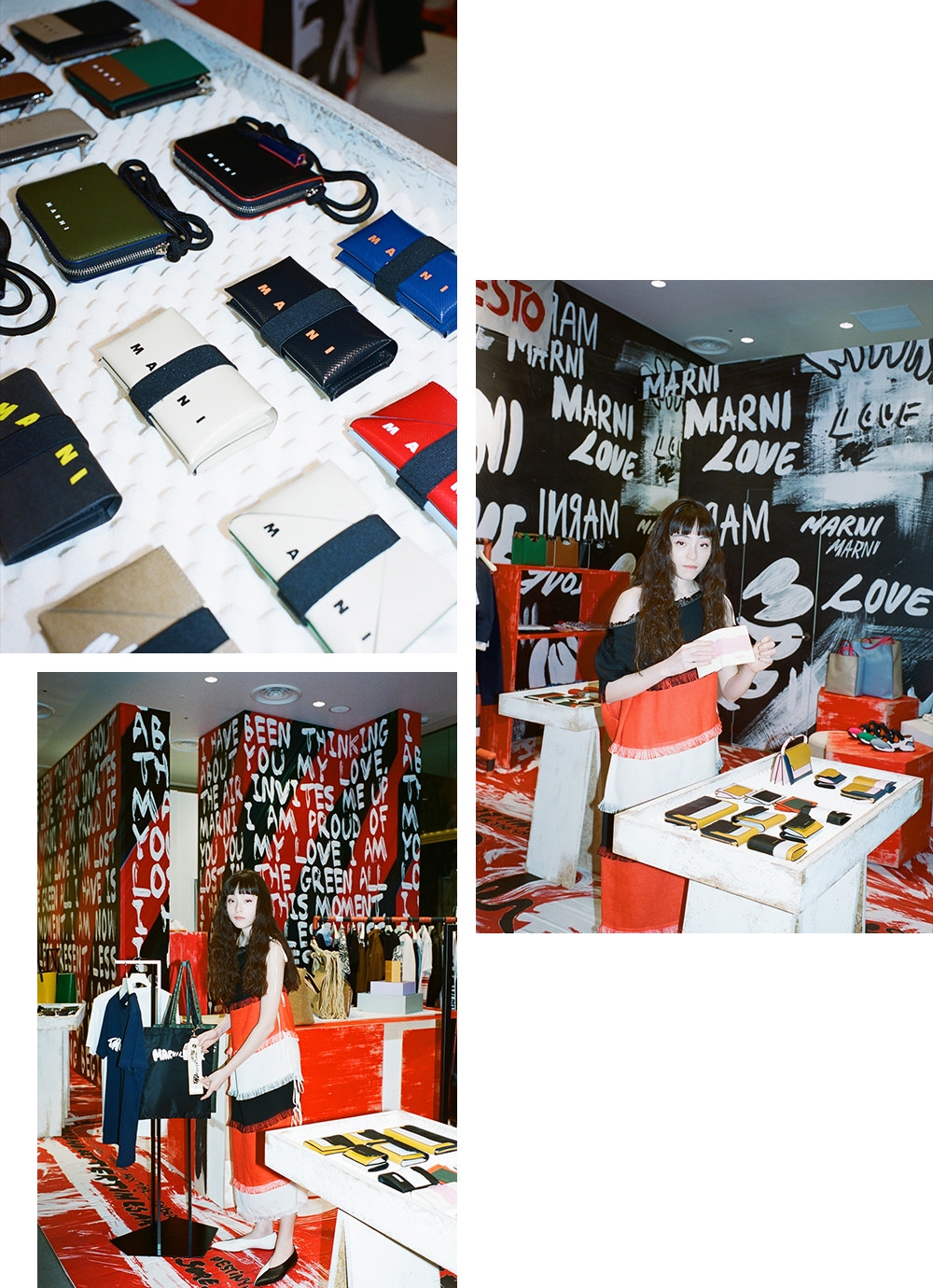 (the center) Wallet for each 53,900 yen
(bottom) MARNI LOVER print nylon bag for each 38,500 yen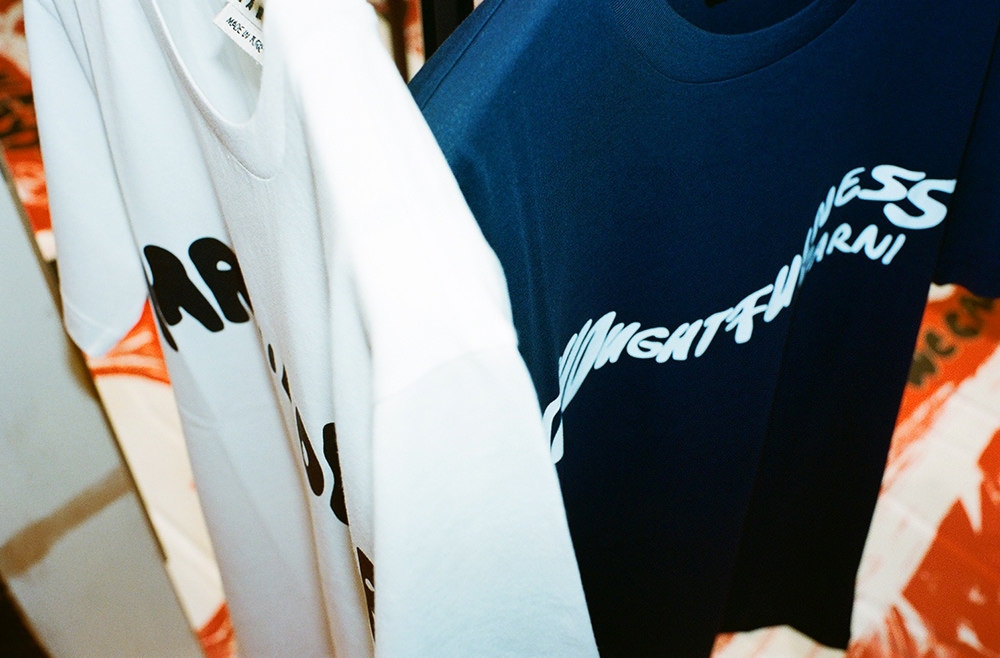 T-shirt for each 41,800 yen
What came true to glasses of motora
"TRUNK" which is art to give off charm that is the one and only bag
"TRUNK" of icon bag which reflected view of the world that it was anarchy that became with wish list of motora with paint. In conformity to "simple denim-style and dress, we want to let you play an active part as accent of wearing because it is one bag and is bold design". Bag features place where some designs of one one are different with hand paint. motora seems to be really crazy about special "TRUNK" that design of the one and only is available, too.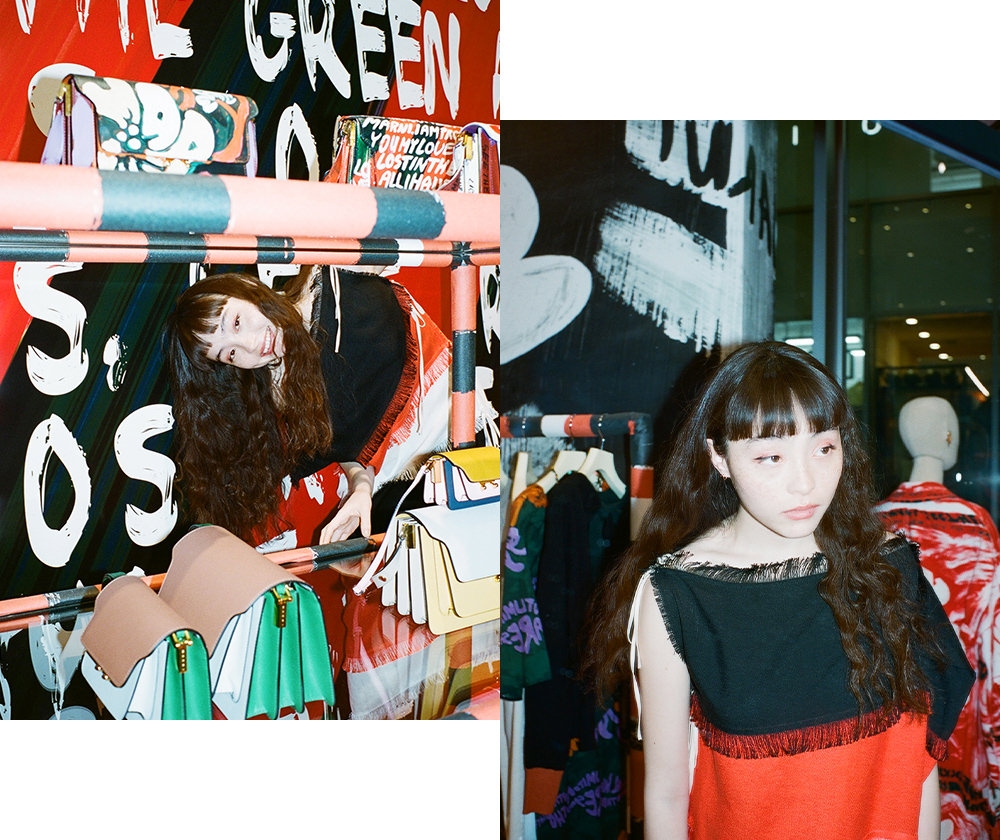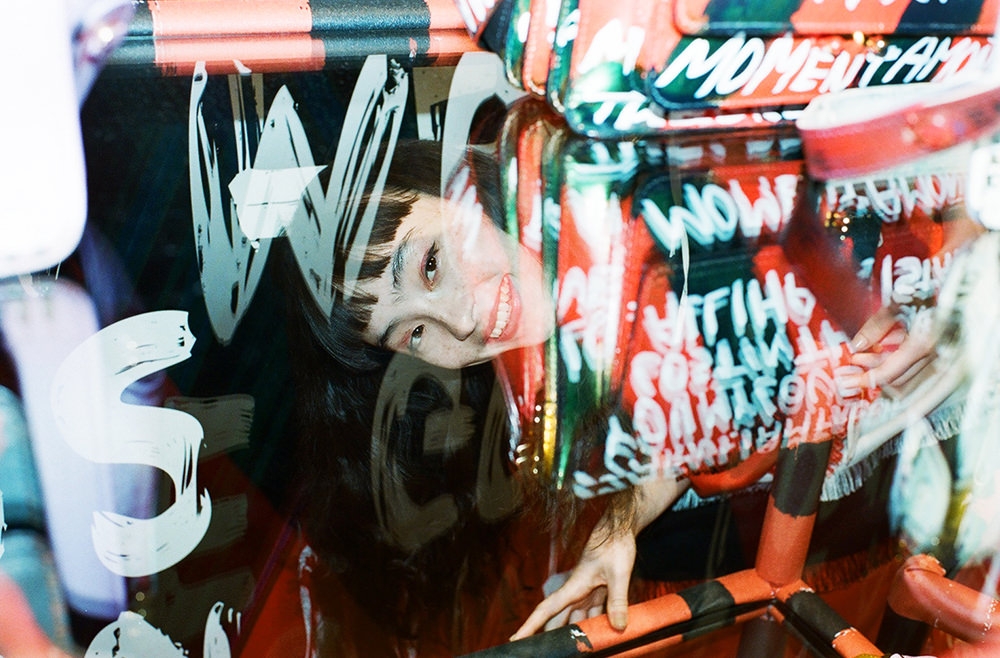 He/she gives casual daily life color
By collection of MARNI, we enjoy spring fashion!
Digital show of MARNI which delivered picture which was filtered, and was photographed of people who lived in NY, Paris, Milan, Shanghai, 12 cities around the world including Tokyo with Collection in the summer in the spring of 2021, and attracted public attention. motora selected as Collection as representative from Tokyo when "clothes to wear at digital show arrived, remember what fitting did while clothes being pretty, and being excited very much. Wonderful brand that MARNI colors usual daily life by print and design which are playful colorfully. Saying if want to feel energy when I want spirit, want to come to this shop, and to enjoy shopping with all one's might; as for saying is; said with smile.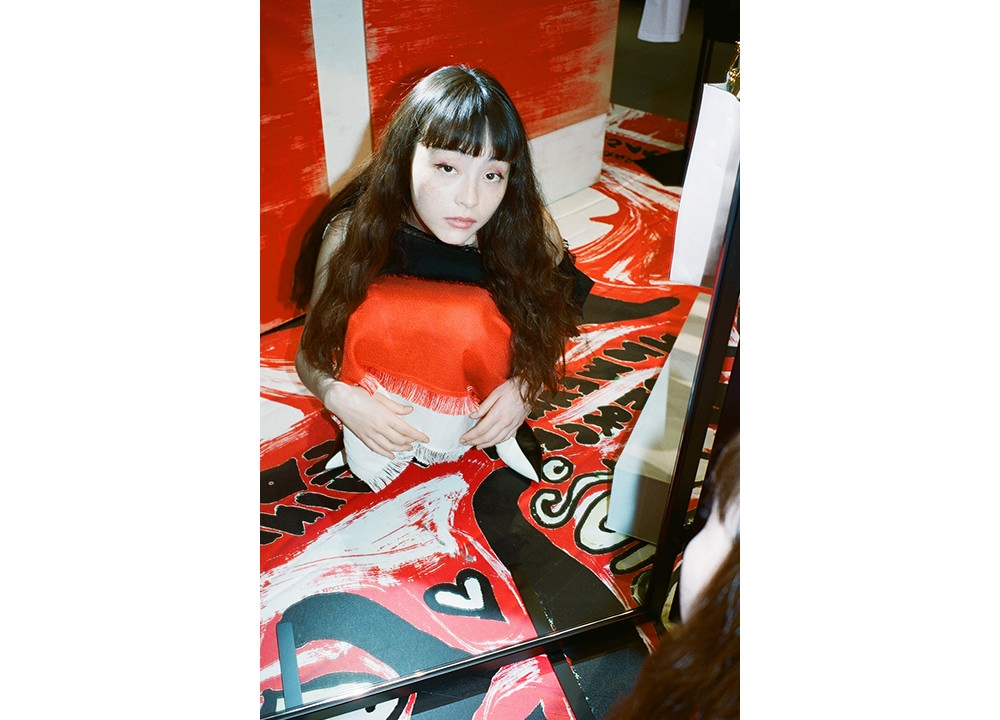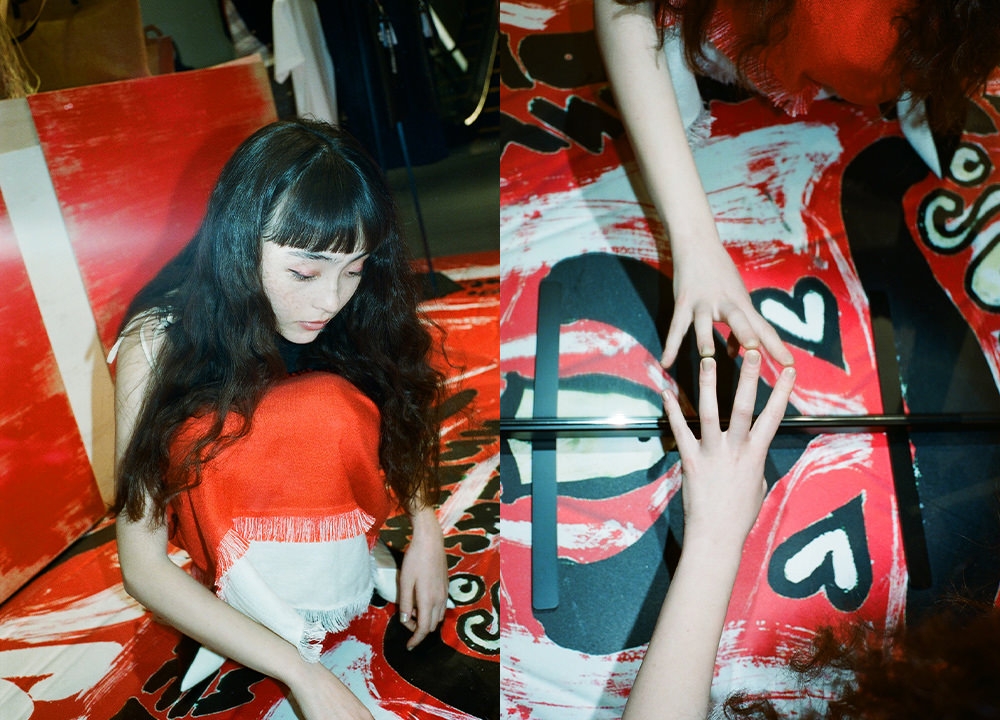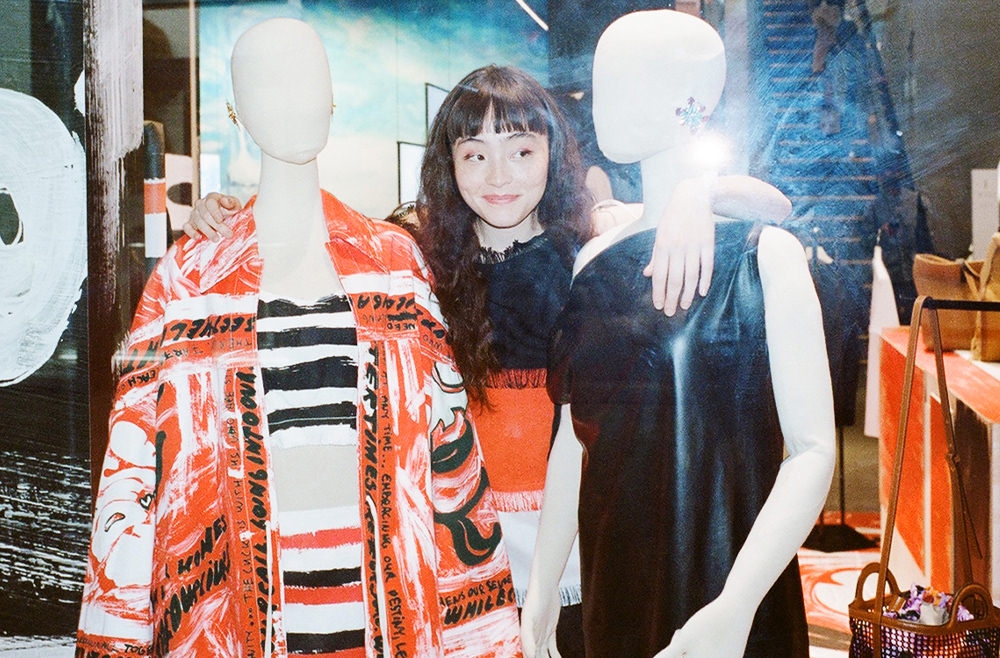 Shop name

MARNIFESTO (The window)

Floor

Shibuya PARCO 1F

The handling item

Women/men/miscellaneous goods

Official SNS

Instagram: @marni
motora Serina chiekipurezento with signature
During period of from Tuesday, April 13, 2021 to Tuesday, April 27, we will hold present in Shibuya PARCO formula Instagram.

<application method>
① We respond in Instagram official account "@parco_shibuya_official"
② We click the like button on contribution targeted for motora Serina chiekipurezento of @parco_shibuya_official uploaded on April 13 with signature
③Click the like button Please comment on comment column of contribution that had you do.
From all of you who had you participate, we will present to five people by lot.
As we contact toward the election in DM, I would like follow of Shibuya PARCO formula Instagram @parco_shibuya_official (@parco_shibuya_official).
※As for the setting which, follow are off closed account, outside lottery object.
※We do application with one-off per person.
※Person having you already respond becomes lottery participation in clicking the like button in target contribution.
※Successful right assumes thing of the person of elected candidate and prohibits transfer (for all payment, free), realization to third party.
<successful announcement>
After fair selection, we contact only elected candidate by direct message of Instagram in around the beginning of May, 2021 and exchange with election with shipment of prize. In addition, shipment of prize plans the middle of May, 2021. Please note that you may be mixed up by circumstances to some extent.
※Address of prize is limited to Japan. By address, new address ignorance of customer, I may not send.
※After, the successful contact before date without reply to direct message of offer of information of addresses when there is not, election becomes invalid.
※Personal information having you provide from elected person will use only for successful information, prize shipment of this campaign.
※We do not accept inquiry about election reason at all.
※We prohibit act that act, we against act, purpose to interfere with operation of social media judge inappropriateness.
※This campaign has nothing to do with Facebook company Instagram entirely.
※Please note that you change without notice and may cancel this campaign.
motora world Rina
It was born in October 9, 1998. We are from Tokyo. We make our debut as model in magazine "soen" of January, 2015. Movie makes its debut by movie "girl encounter" released in 2018 and widens width of achievement as actress. Cinema ten-day report vest ten new face actress Prize is won by "title, refusal" open "call of wind" in 2020.
Instagram (@sereeeenam)