Access
access, parking lot
Parking lot service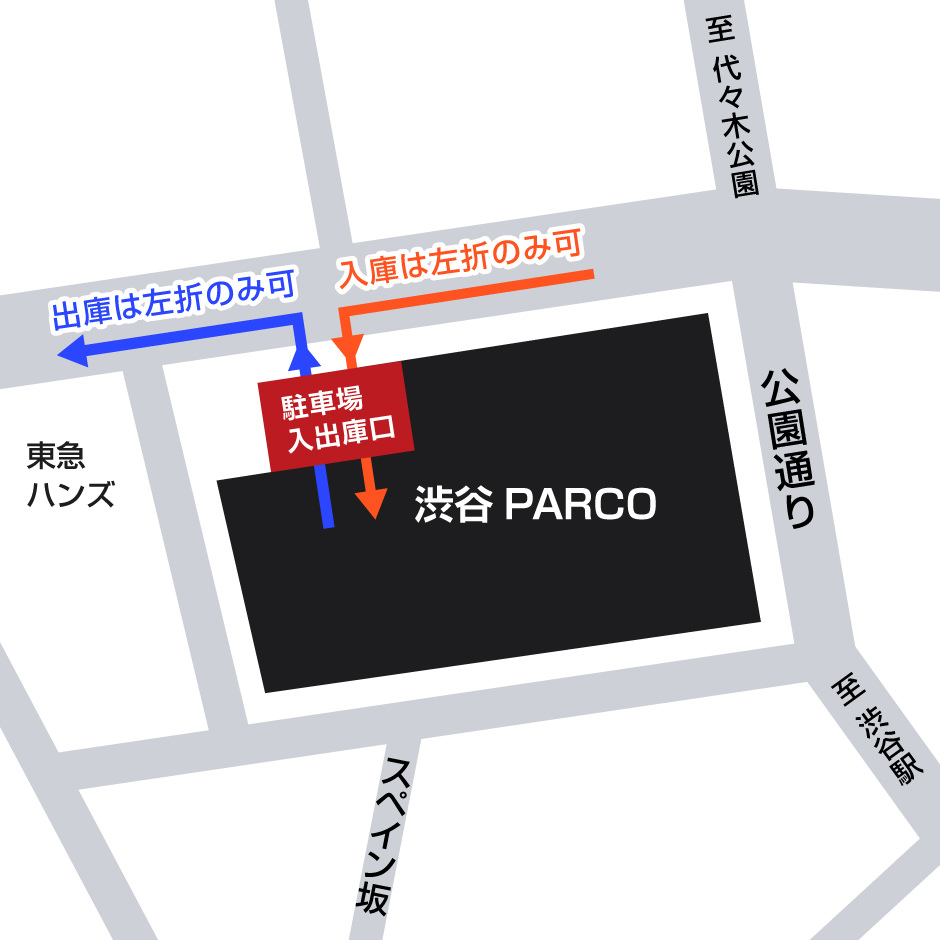 It is> about parking lot in <Shibuya PARCO building
Rate (tax-included)
General car weekdays 320 yen/30 minutes Saturdays, Sundays, and holidays 400 yen/30 minutes
Motorcycle weekdays 110 yen/30 minutes Saturdays, Sundays, and holidays 140 yen/30 minutes


Business hours
7:00-24:00
The use number
Two 134 (66 normal cars, high roof 68) mechanical horizontal placing
One electric car charge point (charge for free parking rate incurs.)
Entrance
Please be stocked at left turn from organ slope of the PARCO north side. (right turn warehousing is prohibited in)

PARCO purchase parking service
We are free of charge purchase tax-included 3,000 yen or more for one hour
We are free of charge purchase tax-included 10,000 yen or more for two hours
We are free of charge purchase tax-included 30,000 yen or more for three hours  
※We can add up each shop purchase.
Purchase parking service object outside store
B1F CLOVER LEAF (fortune-telling)
1F βOOSTER STUDIO by CAMPFIRE
4F RINKAN
5F STARBUCKS COFFEE (in the case of CHARGE to card, it excludes)
5F PARCO SAISON COUNTER
8F WHITE CINE QUINTO
9F GAKU
9F SUPER DOMMUNE
10F GARDENSTAGE
<usage>
・Please bring stationed-in-bike-race ticket.
・Receipt give "parking service receipt" at the time of purchase in each shop.
・Please pay the difference after giving service to stationed-in-bike-race ticket with "the parking service certification machine".
<parking service certification machine setting place>
・The second-floor WAITINGROOM under the ground (7:00-24:00)
・The first-floor information (10:00-21:00)
・The first-floor EAST ELEVATOR width (the end of the 10:00-last business)
※Parking service receipt is limited on the day of the business and is effective.
Precaution
Can be stocked; to vehicle normal car 5.3m in length X 2.0m in width X 1.55m in height
To high roof car 5.3m in length X 2.0m in width X 2.0m in height
It is wheelbase less than 1.8-3.45m minimum freeboard 0.09m or more
<about partner parking lot>
Partner parking lot
Public basement parking area (parking lot in front of Shibuya-ku government office) in front of Shibuya-ku government office
Rate (tax-included)
200 yen/30 minutes late-night on weekdays for 300 yen/30 minutes on Saturdays, Sundays, and holidays for 350 yen/30 minutes (0:00-8:00)
PARCO purchase parking service
It becomes service like Shibuya PARCO. (please refer to the above)
The parking service certification machine becomes chisel in Shibuya PARCO.
We cannot receive service in business partner.
Bicycle parking lot service
It is> about <bicycle parking lot
We offer bicycle parking lot at 8F, 9F in hall.
※We assume only 8F by the use situation.
Rate (tax-included)
After two hours free of charge as for every 100 yen/ten hours
Business hours
7:00-24:00
Entrance
Come to 8F, 9F by elevator for exclusive use of bicycle parking lot of the west (the Tokyu Hands side) on the first floor.
Usage
Take stationed-in-bike-race ticket in entrance gate at warehousing.
You put stationed-in-bike-race ticket in exit gate at leaving a shed, and please pay the difference.
※There is not purchase service.
Careful
We cannot park bicycle less than 20 inches.
We can park our bicycle for each other racks, and bicycles are different. Please confirm guidance in bicycle parking lot.
Motor bike is not available. Please use the second-floor motorcycle parking lot under the ground.
Information
Business hours
※Some stores vary in business hours.
Product sales

It is 11:00-20:00 ... for the time being on 1/8 Friday ※Normal 10:00-21:00
Eating and drinking

It is 11:30-20:00 ... for the time being on 1/8 Friday ※Normal 11:00-23:30
We update approximately every day! The latest information of PARCO is this
parco_shibuya_official Shibuya PARCO