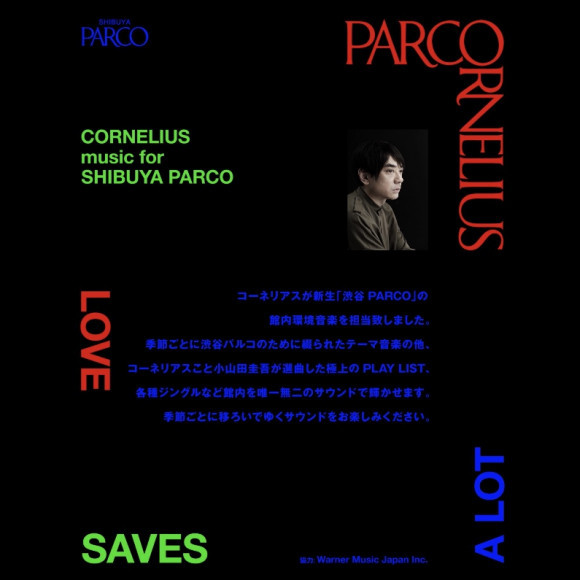 CORNELIUS is in charge of the original BGM supervision of Shibuya PARCO.
We constitute in musical pieces collected from all over the world and original musical piece written a new for Shibuya PARCO by Keigo Oyamada.
It is development with playlist of all six sets in music that we matched with trendy change in the four seasons in selection of music, one year every two months.
Playlist until from March, 2021 to May 31 is this.
['21 03-05 PLAY LIST]
A Folk Study/Laurie Spiegel
Acid/Jockstrap
Stitch in Time/Anthony Moore
Now She's Gone/Felt
Harvest for the World/The Isley Brothers
Landscape/Rupert Hine & David MacIver
Band 073 3 Skizze 4 von, By This River'/Roedelius
Blue/NewDad
Coming To Get You Nowhere/This Is the Kit
Decker's Creek/Gil Trythall
L'Eléphant/Tom Tom Club
The Number Thirteen/Louis Prince
Let Me Sleep Beside You/David Bowie
It's What You've Got/Pete Dello and Friends
Illusion of Time/Daniel Avery & Alessandro Cortini
Free/Sault
Future Games/Fleetwood Mac
Ordinary Joe/Terry Callier
When To Let Go/Violens
Strong Flashes of Light/Brian Eno
Pagan Lovesong/Virgin Prunes
£4/These New Puritans
Adrift/Yamaneko
Poptones/The King of Luxembourg
Dancing Ghosts/CTI
Midnight in the Supermarket/Swim Mountain
Zée Paraná/ Azymuth
Quasimodo's Dream/The Reels
Blue Eyes/Fall of Saigon
Girl Girl Girl/Trio
Dada Guitare/Bill Nelson
Sex Machine/The Flying Lizards
Mono/Beak>
High feat. Eddie Chacon, Nailah Hunter/John Carroll Kirby
Below The Valleys/Louis Cole
World of Ecstasy/Richard Powell
Do I Still Figure In Your Life/Pete Dello and Friends
Piano Pillows Going Abstract/Tachibana Hajime
Bop/Brandt Brauer Frick
Firebird/White Noise
Cryonic Suspension May Save Your Life/Vanishing Twin
Ess Gee/Underworld
High-class prostitute II/*cho
La harpe jaune/Brigitte Fontaine, Areski Belkacem
The French Girl (Mono Version)/Gene Clark With The Gosdin Brothers
Sunlight/The Youngbloods
Asteroid Hop/Jimmie Haskell and His Orchestra
Sorry/The Easybeats
Time Slips By/The Feminine Complex
I Just Want to See Your Face/Serena-Maneesh
George Don/Haruomi Hosono
Air Supply/Sweet Trip
Ensueño/GODTET
Angel/Fra Lippo Lippi
I Found a Reason/The Velvet Underground
Music Is The Light (feat. Cornelius & Kelly Moran)/The Avalanches