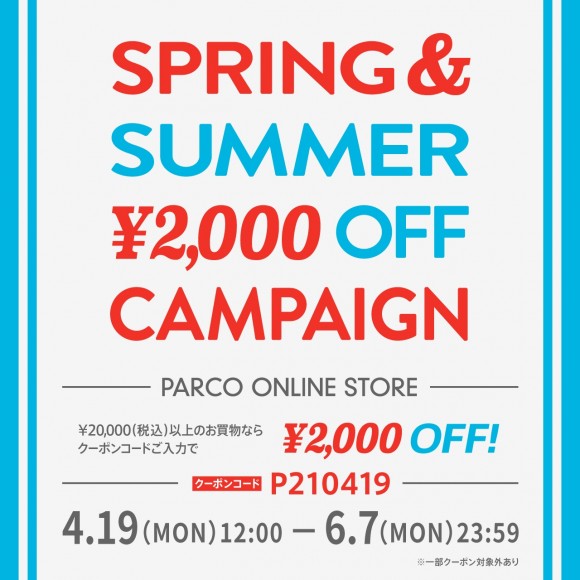 We deliver coupon of \2,000OFF which is usable by shopping 20,000 yen (tax-included) or more in PARCO ONLINE STORE! It is advantageous and can buy good item using coupon in this season.
If it is shopping by PARCO card, the use of PARCO point is possible, too.
In detail (https://kaeru.parco.jp/special/point.html)
Period: 4/19 Monday 12:00-6/7 Monday 23:59
Coupon cord: P210419
How to use coupon cord: [we input coupon cord [P210419] into item page in cart and click "application". As discount is applied, please confirm total amount of money.
Special site:
https://kaeru.parco.jp/special/sscampaign.html
[instructions in case of use of coupon]
●In the case of shopping in PARCO online store, this coupon is available. It is not available to hold product at true store, store.
●This coupon becomes \2,000OFF by purchase same shop 1 cart 20,000 yen (tax-included) or more by a coupon input by code (possible adding up).
●Cart occurs for each postage division. By 1 postage division in the same shop, it becomes 1 cart.
●When coupon is used, please input the coupon cord mentioned above with cart screen.
●It is until 23:59 on Monday, June 7, 2021 for validity of this coupon.
●In the case of product price/sale product except the postage, condition amount of money becomes price after discount.
●Product of PARCO ENTERTAINMENT is out of this coupon. Thank you for your understanding beforehand.
●Please note that you change without notice and may cancel this campaign.
●Input coupon cord; and with coupon cannot use together.
●As you cannot attach coupon cord, please input coupon cord at the time of the purchase by all means.