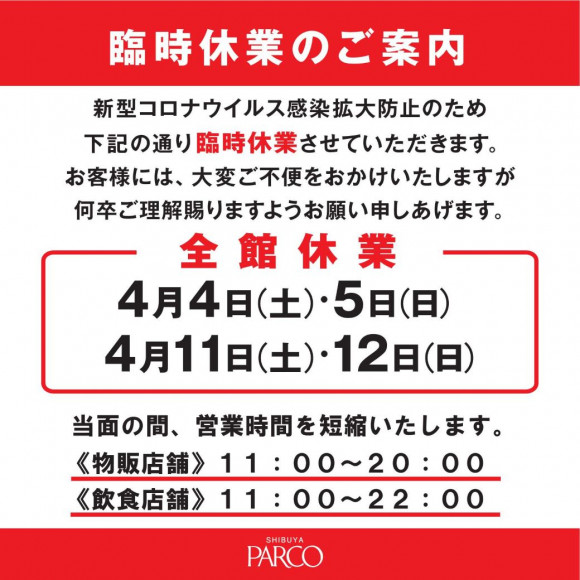 Thank you very much for always favoring Shibuya PARCO.
For preventive measures against infection spread of new coronavirus, we shorten the temporary closure and business hours as follows in Shibuya PARCO all the buildings.
I apologize to customers for the inconvenience, but would appreciate your understanding.
[Saturday, April 4, Sunday, April 5, Saturday, April 11, Sunday, April 12]
Shibuya PARCO << all the buildings closure >>
We will continue shortening of business hours for the time being.
▪Period :March 30 ... for the time being
▪Business hours :
<product sales> From 11:00 to 20:00 (normal from 10:00 to 21:00)
<eating and drinking> From 11:00 to 22:00 (normal 11:00 - B1F 23:30, 7F 23:00)
※There is store varying in some business hours. For more details, please contact Shibuya PARCO HP or each shop.
※About contracted period, business hours, we may be changed without notice by the future situation.
※The following shop varies in business hours.
■Floor
<B1F>
CLOVER LEAF/12:00-20:00
hamano shop parlor/9:00-17:00
Campy!bar/19:00 - 24:00
HUB+82/16:00-23:00
QUATTRO LABO/11:00-17:00, 18:00-23:30
Kanmi okame/11:00-19:30 ※It is closed until from 4 to 12 on April
Future Japanese liquor shop/ ※It is closed until from 3 to 12 on April
Jikasei MENSHO/11:00-21:00
deli fu cious/12:00 - 22:00
Tachinomi BEERBOY/ ※It is closed for from 4 to 15 on April
<1F> THE LITTLE BAR OF FLOWERS/ ※It is closed until ... Sunday, April 5
<3F> AMAZING COFFEE/ ※It is closed until from Thursday, April 2 to Sunday, April 12
<4F> MARCOMONDE/ ※It is closed until from 4 to 12 on April
<5F> STARBUCKS COFFEE/9:00-20:00
<7F> Shibuya yakiniku KINTAN/11:00 - 23:00
<8F>
HOBO Nichiyobi/ ※It is closed ... for the time being on 4/2 Thursday
It follows in WHITE CINE QUINTO/running time
■ZERO GATE
Bershka/11:00 - 20:00 (from Tuesday, March 31 to Sunday, April 12)
※April 4 and 5 closure
jump one/ Mon-Fri day 6:30-22:30, Saturdays, Sundays, and holidays 9:15-18:30, Wednesday regular holiday