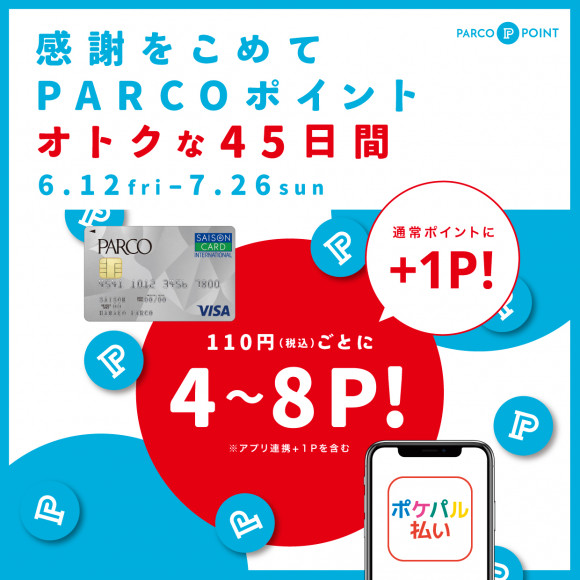 "4 - 8P every PARCO point advantageous 45 days 110 yen!" (tax-included)
■Period: Friday, June 12 0:00 - Sunday, July 26 23:59
■Holding place: PARCO of the whole country, PARCO ONLINE STORE
※There is shop, product excluding partly.
■Contents: We will return point of + (plus) 1P to normal point to save every 110 yen (tax-included) by purchase by PARCO card or pokeparu payment.
[about grant point according to rank by this plan]
Regular rank: Normal point 3P +1P ⇒ 4P
Silver rank :Normal point 5P +1P ⇒ 6P
Gold rank :Normal point 6P +1P ⇒ 7P
Platinum rank :Normal point 7P +1P ⇒ 8P

※It becomes the number of the above, the points that "application cooperation +1P" was usually included in for point.
⇒About application cooperation

※Point to save every 110 yen (tax-included) by rank will fluctuate.
※PARCO point is available in 1P=1 Japanese yen.
■Instructions
※We carry out relief, approach that you can buy safely to customer.
※If it is person having PARCO card, we become a target of normal point +1P of this plan.
※It applies to person who had you enroll in PARCO card newly.