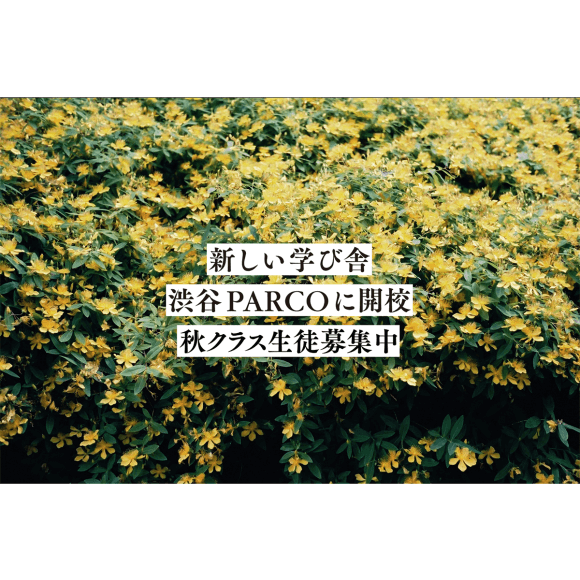 In September, 2020, new creative no school building "GAKU" for the teens will found a school.
The opening of a school became postponement under the influence of infection spread of new coronavirus, but we carry out hygiene management in classroom and, in the case of infectious disease revival, hold online class and maintain environment to find learning opportunity and will found a school.
We develop class of all eight classes including extreme sports project "NEXT GENERATIONS" for the next generation of citizen of product government college cooperation organization "Mirai Shibuya design", and "Ito architecture cram school" where architect, Toyo Ito acts as principal of a private school will start student offer from Wednesday, July 1.
In addition, we start online delivery program "calyx Sinn" of new school building by creator of various genres to gather in GAKU. We talk with about class starting from thing and September when lecturers of each class including GAKU director Yoshikazu Yamagata feel in the current times with teenage guest. We deliver by various podcast delivery services on every Wednesday. We are releasing the first now.
"GAKU" which sends the way of new creative education. Please pay attention to development by creator of "genuine article" playing an active part in music, building, meal, fashion, design, art, a great variety of domains including sports worldwide.
・・It is ... with ・ "GAKU"
Teenagers can come across the origin of the creative; "learn", and is no accumulation place. We invite Yoshikazu Yamagata of fashion design school "school in here" representative producing a lot of world-famous creators to director and, as place of creative education for 10s led by junior high student, will develop a great variety of classes such as music, building, meal, fashion, design, art, sports. Creators of "genuine article" that it plays an active part in home and abroad to become lecturer. Facing sensitivity and thought of self, we aim at bringing up rich mind by making trial and error with unknown existence for both sides of student and lecturer.