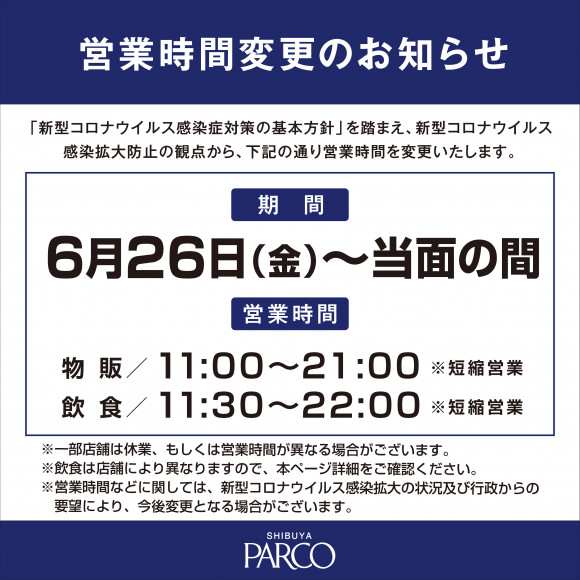 Thank you very much for always favoring Shibuya PARCO. In Shibuya PARCO all the buildings, we will change business hours as follows.
I apologize to customers for the inconvenience, but would appreciate your understanding.

Friday, June 26, 2020 ... for the time being
≪Product sales >> 11:00-21:00 
≪Eating and drinking >> 11:30-22:00 ※It varies according to stores.
※It may be different from for temporary closure or the business hours mentioned above about some stores.
<product sales store varying in business hours> ※We will update at any time.
■B1F union record SHIBUYA (only on 12:00-21:00 ※ Sunday/Holiday until 20:00)
■B1F HIPSHOP (12:00-20:00)
■B1F Condomania (12:00-20:00)
■1F THE LITTLE BAR OF FLOWERS (business hours: on 14:00-19:00, Monday on regular holiday)
■4F chompoo (11:30-21:00, Monday: 11:30-15:00)
■5F STARBUCKS COFFEE (9:00-22:00)
<eating and drinking store of B1, 7F>
Please confirm this.

※We may be changed by request from the situation of new coronavirus infection spread and administration about change and target period for temporary closure, business hours in future.
※About sales system, we may change in future. We will guide on this occasion on our homepage. I would like confirmation.
We would appreciate your understanding and cooperation of customer.
Approach and request to customer for safe relief accompanied with business resumption