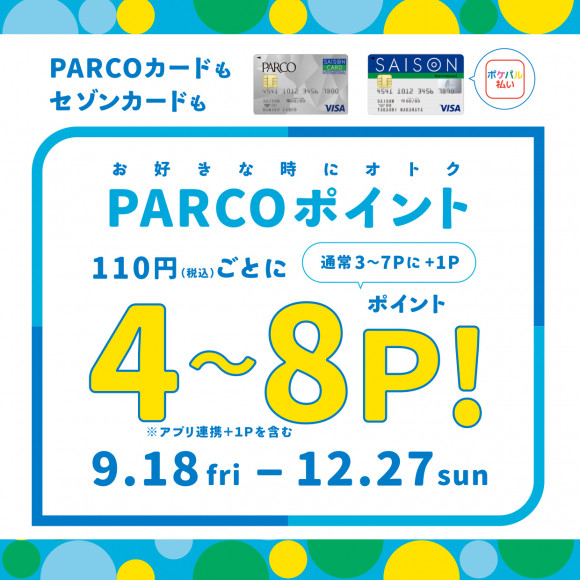 When "we like 4 - 8P every advantageous PARCO point 110 yen!" (tax-included)
■Period: Friday, September 18 0:00 - Sunday, December 27 23:59
■Holding place: PARCO of the whole country, PARCO ONLINE STORE 
※There is shop, product excluding partly.
■Contents: We will return positive 1P to normal point to save every 110 yen (tax-included) by purchase by PARCO card or pokeparu payment.
※pokeparu payment is the application QR cord settlement to be available in application POCKET PARCO of PARCO.
[about grant point according to rank by this plan]
Regular: Normal point 3P +1P ⇒ 4P
Silver :Normal point 5P +1P ⇒ 6P
Gold :Normal point 6P +1P ⇒ 7P
Platinum :Normal point 7P +1P ⇒ 8P

※It becomes the number of the above, the points that "application cooperation +1P" was usually included in for point. The details are this
※Point to save every 110 yen (tax-included) by rank will fluctuate.
※PARCO point is available in 1P=1 Japanese yen.
■Instructions
※We carry out security, approach that you can buy in peace to customer.
※There are products partly shop excluding.
※If it is person having PARCO card, we become a target of normal point +1P of this plan.
※It applies to person who had you enroll in PARCO card newly.
※SAISON card feels PARCO point by registration, the use to pokeparu payment. The details are this (there is card excluding partly)