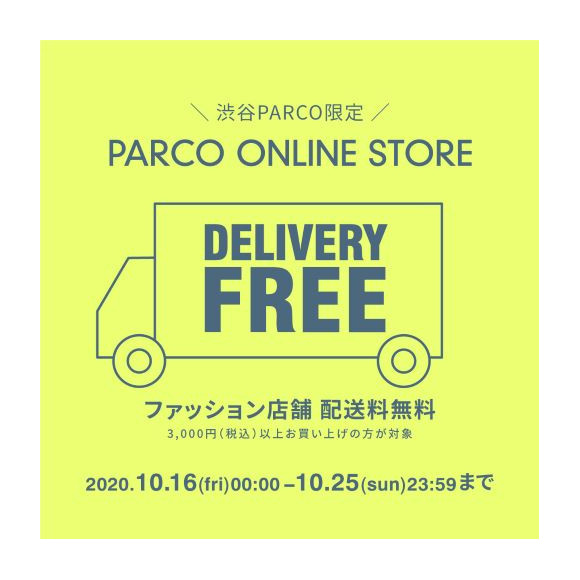 Only in Shibuya PARCO, delivery charges hold campaign becoming free by purchase 3,000 yen (tax-included) or more at fashion store of PARCO ONLINE STORE!
You are advantageous, and please enjoy shopping in house!
Free shipping period: 2020/10/16 Friday 0:00-2020/10/25 Sunday 23:59
[list of target stores]
PORTER EXCANGE
K3
Alexanderwang
2G
THE NORTH FACE LAB
BILLIONAIRE BOYS CLUB / ICECREAM
g. sakayori.
UNITED NUDE
PAMEOPOSE
ADAM ET ROPE HOMME
FRED PERRY
FEMMENT
Flower Mountain
KiwandaKiwanda
VERTICAL GARAGE
KIIRO
mintdesins garage store
ADAM ET ROPE FEMME
MARCOMONDE
HOBONICHI CultureN
SNIDEL
GRIMOIRE
Sneeuw 
ORIGINATED IN GRACE CONTINENTAL
RE⇄STOCK
Samantha Thavasa
jóuetie
Lily Brown boutique
L.H.P.
LOVELESS Sunny Side Floor
TiCTAC update
Manhattan Portage
Angelic Pretty
Candy Stripper
Charles Chaton
@Ray-Cassin.onlinestore.tokyo
fraisier
Evelyn
jamie eenuke
Nya-SHOP 
RADIO EVA STORE
KBF
MIUNo.2
Condomania
APOCRYPHA (10/9-25)
SEVEN BY SEVEN (10/9-10/21)
※It becomes free shipping by purchase same shop 1 cart 3,000 yen (tax-included) or more.
※In the case of shipping address, Japan limits object of this campaign.
※There are shop of some campaigns exclusion and product. Thank you for your understanding beforehand.