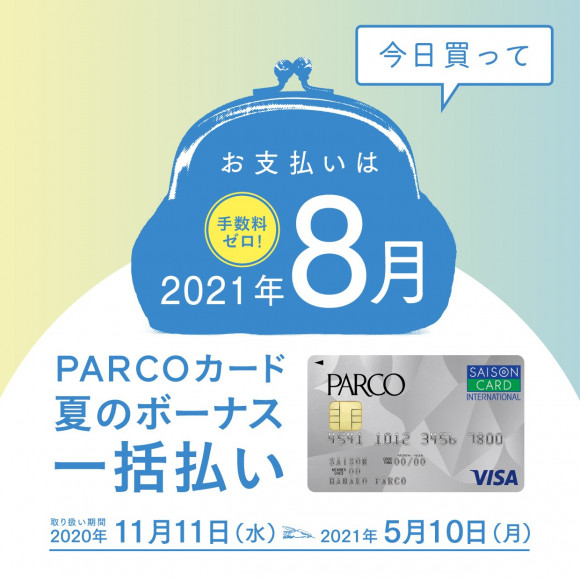 PARCO card summer bonus lump sum payment
Period: From Wednesday, November 11, 2020 to Monday, May 10, 2021
■Bonus lump■
・In the case of the use, 8/4 is expected to pay the payment total sum in 11/11-5/10.
・In the case of the use, 1/4 is expected to pay the payment total sum in 5/11-11/10.
※In the case of financial institution holiday, 8/4, 1/4 become withdrawal of next business day.
・About available frame, please confirm by documents at the time of sending cards.
・Products become exclusion travel agency, beauty treatment salon, insurance, some stores including medical institution.
・It may be different from the handling period mentioned above at some stores.
・Bonus lump sum payment is not available by "pokeparu payment".
■About the use of card■
・When the damage occurred by use of card depending other than the person when it is encountered loss or theft by card, including day when Credit Saison Co., Ltd. (as follows: we) heard, they sail up until 61 days ago, and they shall be irresponsible for member of principle about thing that occurred afterwards. ※We have our predetermined procedure be inferior.
・The use of card is limited to member and lends card and hands over, and there is not use of other securities with pawn.
・Card, please sign by all means in signature space of the back side. In addition, password of card avoids number supposed easily by another person such as the date of birth, phone number, and please be careful not to be known toward other than the person.
・When we change part or all of card terms, we will tell by our notice or other appointed methods on our homepage.
・We may change commission rate by the finance situation.
・Annual fee of PARCO card is free.
・PARCO American Express ®, card is annual fee 3,300 yen (tax-included).
・Contents of mention may be changed. Thank you for your understanding beforehand.
・Contents of mention are effective only in PARCO facilities.