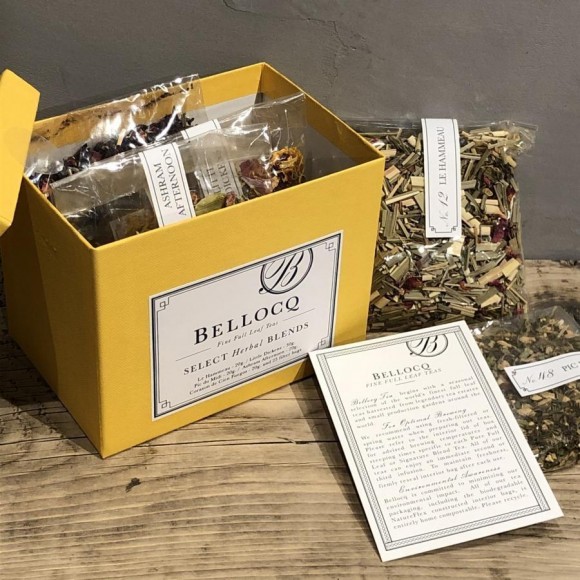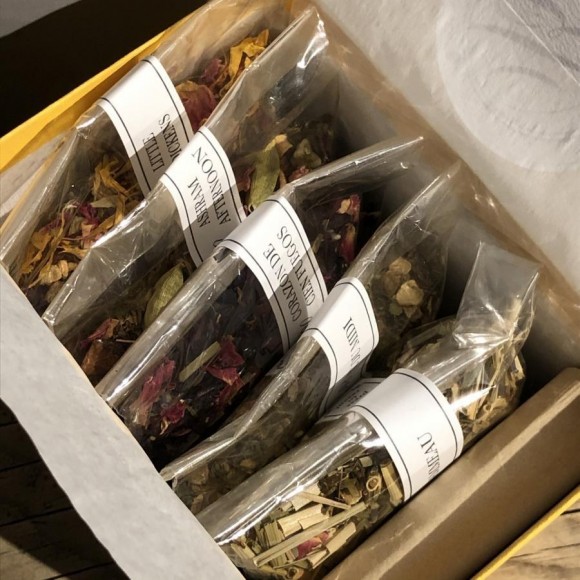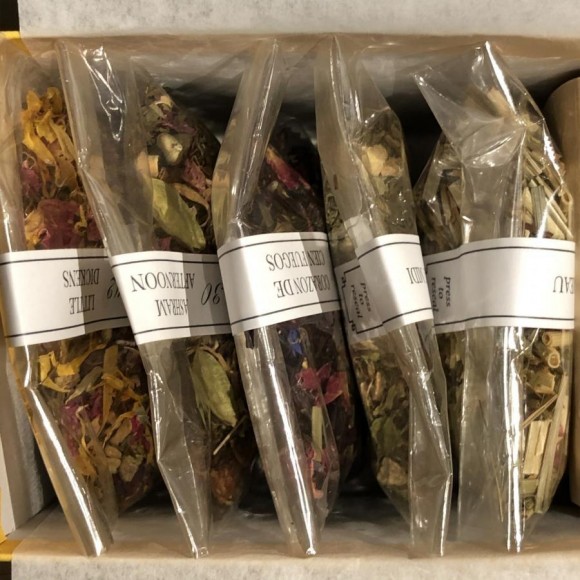 In box of BELLOCQ original
Five kinds of blend tea entered
Popular HERBAL BLENDS BOX

Herb tea that it was selected carefully of BELLOCQ TEA
As is pleased very much, to gift toward the tea enthusiast
Recommended!

As is organic tea leaves, really tea leaves itself
Beautifully bloom completely repeat
Taste taste by all means in special BOX
Please give me☆

HERBAL BLENDS BOX
Her bal blend box

We subdivided five kinds of tea. Please enjoy each taste and flavor.


NO.12 LE HAMMEAU about 20 g
Lemongrass (Egypt), lemon Verbena hybrida, spearmint, rose

NO.30 ASHRAM AFTERNOON about 20 g
Basil (India), octagon, cardamon, spearmint, Rose pedal
Orange blossom, natural fragrance

NO.42 LITTLE DICKENS about 30ℊ
Rooibos tea (South Africa), cacao, ginger, cinnamon,
Spearmint, rose, vanilla bean, yellow oxeye

NO.48 PIC DU MIDI about 20ℊ
Ginger (India), spearmint, lemon Verbena hybrida,
Leaf of black currant, natural fragrance

NO.100 CORAZON DE CIEN FUEGOS about 20ℊ
Hibiscus (Egypt), lemongrass, cinnamon,
Rose pedal, lavender, corn flour



25 pieces of tea filters

Preservation method, We avoid direct rays of the sun, high temperature and humidity and save cool and dark space
Blend


[BELLOCQ TEA ATELIER]
As three people of high D Johansson Stewart, Michael Shannon, Scot Stewart each bring each free sensitivity, send culture of new tea from Brooklyn of NY.
Imagined blend tea melts into sensitivity of person each drinking from new viewpoint while having the respect for tradition.
BELLOCQ TEA ATELIER HERBAL BLENDS BOX
6,156 yen
There is stock
Shop Information
Shop name

Living with a feeling of H.P.DECO art

Phone number

03-5422-3983

Floor

1F

The handling item

Interior/lifestyle miscellaneous goods/fashion goods/women